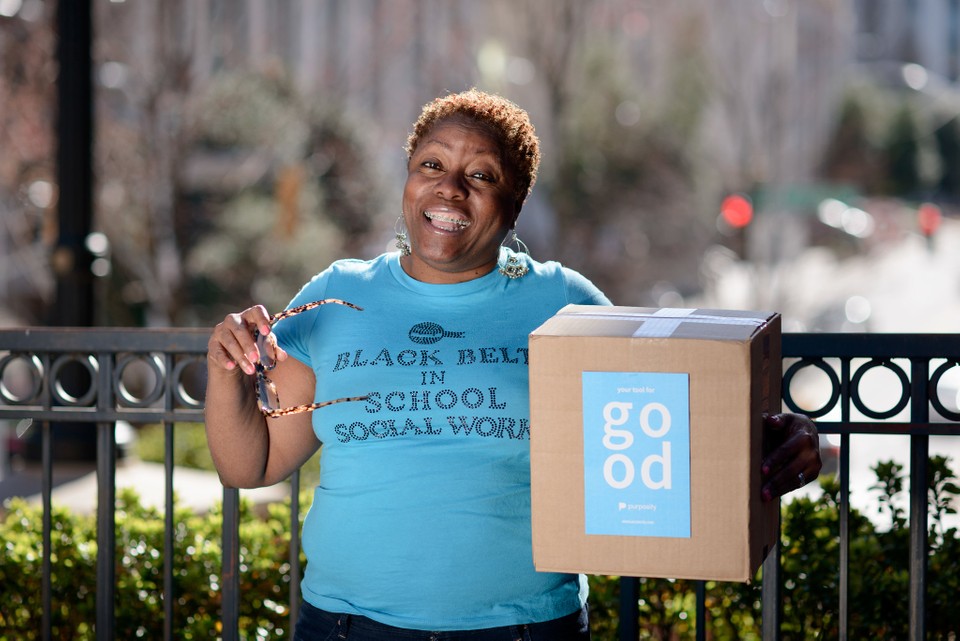 July 29, 2020
By: John Moon, Purposity Summer Intern
We believe that humanity is fundamentally good. 
Earlier this year, a series of fifteen tornadoes hit Tennessee in a single night, causing a single mother and her teenage daughter to lose their home, belongings, everything. And then, they were trying to rebuild during a pandemic. They didn't know where or how to begin. This is where the non-profit platform Purposity came in. The mobile app shared the family's needs, ranging from kitchen supplies to bedding and in one week, their neighbors met all those needs.
These stories of generosity teach us something so valuable: 1) Humanity is good, and 2) We are constantly looking for opportunities to give. These two insights – and the existing disconnect between everyday people and tangible altruism – inspired our team at Purposity to develop an app where people can live generously and with purpose.  
This free app connects the practical needs of people, vetted through established local nonprofits and school systems, with users who want to help, through just a few clicks. These needs can range from diapers for a newborn baby to tablets for students preparing for a virtual semester, and the best part is that every penny donated goes towards supplying those needs.
Purposity is a homegrown Atlanta nonprofit that is rapidly scaling nationwide. The organization is partnering with more than 1,200 local community partners across 27 states and has engaged more than 100,000 users on the app.  Its solution, particularly in a socially-distanced COVID world, has offered a meaningful next-generation approach to building engaged, supportive communities that can respond to some of our most pressing needs. 
Purposity has creatively leveraged partners across the Georgia social impact ecosystem to scale its work.  Georgia Power and Deloitte are two examples of companies who have recognized Purposity's potential and invested in its work.  Georgia Power has recruited its school district and nonprofit partners across the state onto the platform and mobilized its employees to respond.  It has also sponsored all needs in the state of Georgia to help cover Purposity's operating costs.  Deloitte has delivered multiple pro bono strategy engagements through its StepUp Georgia program for young professionals.
Purposity is also tapping the social impact talent of local universities, having nearly doubled its size this summer by onboarding an inaugural summer intern cohort consisting largely of students from Emory's Social Impact Investing, Ethical Business, and community consulting groups. 
Ways to Join us.
The first way to join us is to download the Purposity app! Every week, hundreds of needs are posted on our app and every need you meet will greatly help someone in need in our community.
Secondly, if you work for a nonprofit, consider partnering with us. Purposity has connected hundreds of nonprofit organizations and school districts to new resources in their communities. There are no costs or gimmicks. We have an army of users (more than 30,000 in Georgia) ready to help support the individuals you serve.
Finally, we believe that companies can be a powerful force for good.  If you work for an impact-minded company, we are looking for partners to help inspire generosity in response to community needs.  A Purposity partnership allows companies to mobilize their brand for good and empower their employees and consumers to support their local organizations. For more information, please contact us at [email protected].
A Final Story
We want to leave you with this final story, from a Purposity user who gives our team so much hope with her incredible generosity:
"This is the best app ever! I LOVE knowing exactly where my money is going and feel so happy that I can help someone who has more needs than we do. You have created an app that deals only in love and taking care of everyone. Thank you, thank you, thank you! –Kimberly"
Every day, Purposity shares the stories of those who need our generosity. We start by sharing needs, and we trust you to help finish those stories. No matter how you join us, we want to empower you to be your own storytellers and to conclude these stories with love and hope.
https://gasocialimpact.com/wp-content/uploads/2020/07/APS-homeless-liaison.jpg
641
960
Sydney Hulebak
https://gasocialimpact.com/wp-content/uploads/2018/09/gsic.png
Sydney Hulebak
2020-07-29 09:56:07
2020-07-29 09:56:07
Purposity. A Story of Human Goodness and Social Innovation.