my Panda helps people get trusted, reliable help from right in their own neighborhood. my Panda has a culture of women helping women. 95% of the Pandas are women, they understand the struggles our members face, and they hire those who are passionate about helping. GSIC caught up with founder Tamara Lucas to learn more about her journey and my Panda's success with connecting neighbors and local communities.

By: Kayla Jones, Social Impact Fellow
GSIC: Tell us about my Panda, and why you felt it was necessary to start this business. 
Tamara: So, it was a problem that I have, right? I am a single mom of two kids. My career before this was working in sales and marketing management in the fine wine field – working as a distributor. I was representing different wineries, and as a single mom with two kids, I was super overwhelmed. It was too much on my plate, as many of us can relate. The idea was born actually when one day, I was talking to a friend of mine who worked as a dog walker. She was like, "Oh, my God, I go into people's houses, and they need much more than just a dog walker! I go in there and take their dog out, but then their kitchen is a disaster. If they would like throw me $20 bucks, I'd empty the dishwasher and wipe down the kitchen, too!"  And I thought to myself, "Holy cow, that's what I need!"
So, at that point, I was like, "You know, if someone was driving by my house anyway, they could just stop and spend 30 minutes in my kitchen, and I paid $20? Oh, absolutely!" And then I thought about how many other people there are all around us – primarily working women. We're the ones that have the brunt of everything put on us. And how many other people are all around us, in our community, have little bits of time, little pockets of time, and would want to help?
That's where the whole idea came from. I thought, "Hey, if we can just connect these people, that would be great."  So I asked myself, "Well, why don't we try to build an app?" And I'm non-technical. So I had no idea what was involved in that. Then I began to realize, as I talked about this idea with more and more people, how many people needed it. Basically, everybody I talked to was like, "Oh, my God, I need that! I need someone to help me just get to these everyday things that are just too much." So then I was like, this is something that can really be a business, and we can grow it. And that was the birth of it. We went ahead and built the app and it has kept growing from there.
GSIC: That's great. Can you speak more about the decision to make it an app? Or the other possible ways my Panda could've come about? 
Tamara: Yeah, sure. So we actually launched with a browser-based system because it was really simple to build. People would just log into the website, put in the request, and then the request would be there for us to view. We developed the app because we envisioned people being out and about and realizing, "Oh, my God, I left the laundry in the washing machine, I need someone to go by! And maybe, I'll just have them take care of the dog, too." 
We wanted people to just go to their phones and put the request in. We saw it as a very simple way to use this tool. Most people carry their phones around them all the time. We wanted it easy for people to hire our Pandas, and Panda stands for "Personal Assistants Next Door App." We envisioned people thinking, "Oh, I can go get a Panda" and getting one flowed seamlessly into the person's life. That being said, right now, we are reworking our website. We're rebranding and everything, and going to have a browser-based capability of putting in requests. We're building that back in because there are people that might not want to download an app or sometimes getting the app is a barrier for them. We think it can help our marketing because if people can use our services just from the browser instead of downloading the app too, we think that will make a difference.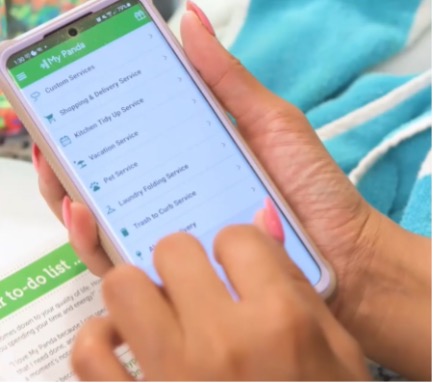 GSIC: That's great. Can you speak about some of the favorite moments about doing this work?
Tamara: I'm passionate about helping people. I have a Master's in social work, which I got from UGA back in the mid-90s. Helping the community and helping people drive me, and that's what I see my Panda as. It's helping the people that need help, and it's also helping Pandas who want to have a flexible job. It's rewarding work because they get to step in and help people.  It isn't just a gig, you know? I can't think of an exact moment per se, but when I get emails or text messages from our users, like, "Oh my God, my PANDA just left, and my life has completely changed!" I love that feeling of completely changing someone's day and, by doing that, changing their life.
Also, many women left the workplace during the pandemic, and it's been a big issue. So many of our PANDAs are women. And having the job flexibility of making $20 an hour and the opportunity to work within the local community is pretty special. That's the other unique thing about us – we're hyperlocal. Our PANDAs only work a few miles from their homes and serve the same people within the local community. They get to support local independent businesses. We have many people who submit shopping requests for the DeKalb Farmers' Market. So Instacart, for example, doesn't go there.  Some of our PANDAs are skilled and know their way around the market. They can go when the market isn't too busy, which helps our users that work during the day and can only go during peak hours. It makes my day when I get those stories about how we completely affected somebody's life.  
GSIC: That's really cool. It's neighbors helping neighbors, and also helping the small businesses that may not show up on other food delivery apps.
Tamara: Exactly. And it's also keeping the money in the local economy. It's really important for us to support our local businesses and keep that money locally. When we do that, that money gets amplified so much more. It helps communities instead of going into huge corporations and helping the shareholders.
GSIC: That's great. So then, on the other hand, what has been some of the more challenging experiences of running it? 
Tamara: With running a startup, you're building the plane while you're flying it. I don't have a business background – I have a social work and psychology background and experience in wine sales. So the learning curve was really steep, and then having the resources that you need. Being a first time founder and a female founder, getting access to funding is tough. It's changing now, for underrepresented founders, though. There's a lot more funds out there that are specifically targeting us and helping us but, bootstrapping is hard. And accessing cash has been very, very hard.  It's hard when this is your full-time job, and you're not paying yourself, and you've got two kids to raise. So that has been really difficult – accessing resources. 
We're essentially a marketplace business. We've got a supply side and a demand side. Making sure that that's balanced is tough, too. Making sure we have enough Pandas hired so that when requests come in, they're getting picked up time on time. But then also, we get Pandas hired and don't have enough jobs coming in, and they quickly lose interest, and they fall off. So as far as the style of business that we are, that is the biggest challenge we have with running the business.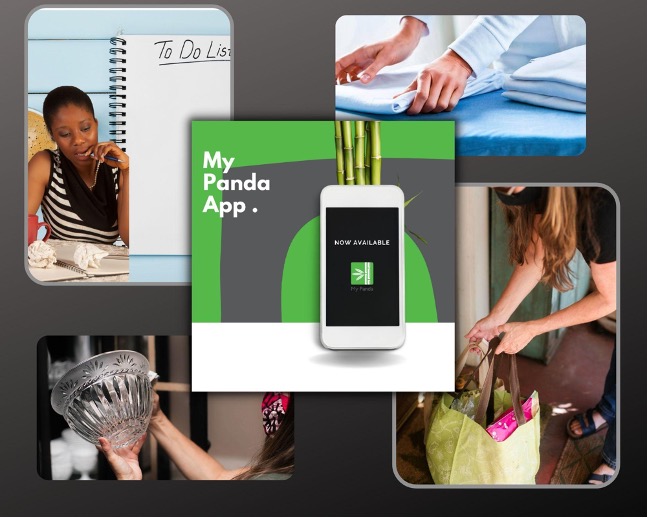 GSIC: That makes a lot of sense because the PANDAS provide on-demand services, right?  
Tamara: Yeah, they do. So a person can put in "on-off" requests, and they can be completed within an hour or two. But generally, we don't get to them that quickly. So you can do same-day services, but we also have subscription services where a person gets partnered with Pandas, our Panda Partner program. So depending on the needs, we find the Panda whose schedule works with the client's. Then that Panda becomes the "go-to." Those people schedule the Pandas more regularly, which helps the Pandas have more consistent work. We're hoping to move to a membership-based model soon to help with some of our scheduling challenges. 
GSIC: Thank you for your transparency in talking about the challenges as you operate. So how did you build those connections in the first place and get customers using the platform? 
Tamara: The startup and technology ecosystem here in Atlanta is robust. I've tapped into that ecosystem to help give me support. As a first-time founder, I really needed help building a strong foundation for the business. I also tapped into ATDC and Emory's Goizueta Business School, which has the Start:Me program. I went through the City of Atlanta Women's Entrepreneurship Initiative program, LaunchPad 2X, and right now I'm in TechStars Atlanta. Getting into all these programs helped my network to expand. 
That was all hard because our app launched in September 2019, right before the pandemic. So, as I was building the business, everything was virtual, and getting to know people was difficult. But a lot of the foundation was laid during that time period, and now that people are getting back out and about, it's been great to access that network again.  
Pretty much all of our growth has been because of word of mouth, we've had very little marketing. That's been great because my Panda is a very personalized, trust-based business. So if you hear about it from your friends, you're much more likely to use it. Much of our growth has also been from Facebook groups, especially Mom and Neighborhood-based groups. I started it in my neighborhood and then moved to the neighborhoods around us. Facebook has been a huge way that our business has grown. 
GSIC: Wow, that's pretty cool. Using Facebook groups is really really smart. So what do you believe is my Panda's superpower?  
Tamara: Connecting with people and connecting people. My undergraduate degree was in psychology. And when I was going to college, I thought, "What am I gonna do? I thought I might as well get a degree in psychology because all I ever did was help people with their problems." I might as well get paid for it, you know? (laughs) So, I definitely connect with people and establish relationships with people really well. my Panda is a connector for sure! 
GSIC: That's great. Well, thank you so much for your time! We wish my Panda all the best.
Tamara: Thanks for having me!
Find more information about my Panda here: 
Donate Panda hours to New American Pathways to help with Afghan refugee resettlement: https://www.mypandaapp.com/napw
Download the myPanda app"


https://gasocialimpact.com/wp-content/uploads/2022/12/myPanda.png
188
684
Sydney Hulebak
https://gasocialimpact.com/wp-content/uploads/2018/09/gsic.png
Sydney Hulebak
2022-12-05 09:00:48
2022-12-04 21:34:18
Entrepreneur Profile: my Panda