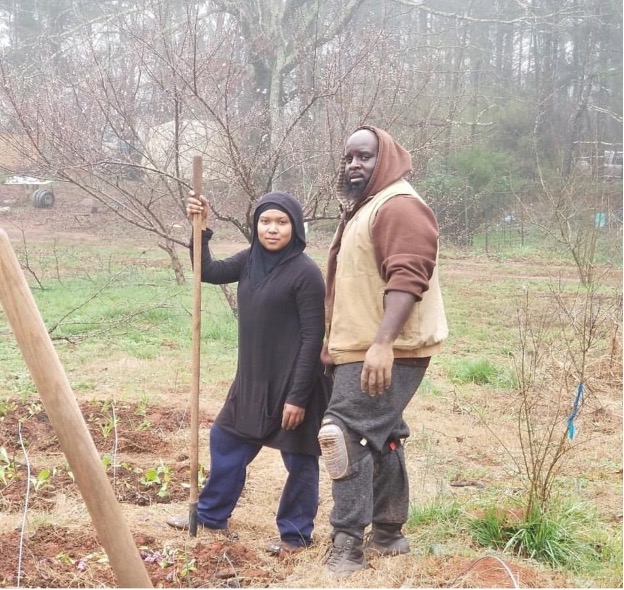 June 6, 2022
By: Kayla Jones, GSIC Social Impact Fellow
Bread and Butter Farms aims to utilize what the earth provides holistically to grow vegetables,  fruits, and herbs with zero chemicals. They simply take care of the soil, plant heirloom seeds, and harvest to provide the most nutrient-dense produce possible.
GSIC caught up with founders and owners Micole and Musa Hasan to learn more about Bread and Butter Farms and their mission to provide a "true farm-to-table experience" for the community. 
GSIC: Tell us about Bread and Butter Farms and the challenges you hope to address with your mission. 
Micole: Bread and Butter Farms initially started as a way to afford to feed our family the way we wanted to eat, without having to buy foods or produce full of chemicals. We began very small in our apartment. In each space we lived, we started indoor growing. Then we would go to the balcony and backyard, making a natural progression.
We finally got a house and a yard, so we turned the whole backyard into raised beds. That's when we started selling at a market. We would take pictures and post them on social media, and people started showing interest in what we had. So, we would just sell bundles here and there, and then somebody said, "Well, you guys should come to the Athens Farmer's Market."
We were like, "Sure, why not!" So, we tried it, and it was like getting bit by a bug because we did not realize that we could make money doing something that we enjoyed. We were already doing it for our family but saw that we could provide income for ourselves. It was our opportunity to get out there as farmers, scientists, and Black people. The farmer's market was an area in a food desert, too. We partnered with the Athens Land Trust, which tries to work with Athens's underserved and underprivileged communities.
So, we felt it was a good space for us and a good fit because we got to talk to all sorts of people. For example, people would come to tell us about their health challenges, like high blood pressure and heart problems. Our experiences, along with our education, helped us talk to people about what they should eat to mitigate the issues that they were having.
We are both very passionate about farming. It keeps us going on some level, especially when it comes to our customers and seeing the needs that we can fill.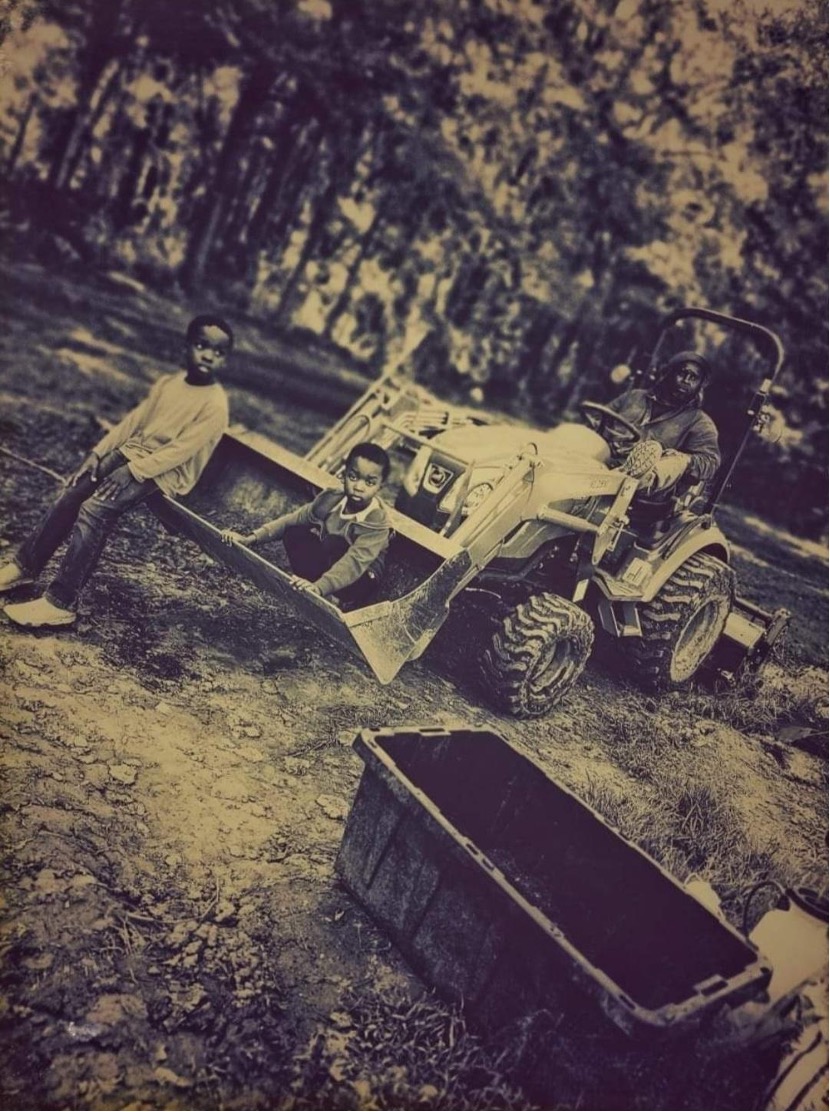 GSIC: That's wonderful. How long have you all operated, and how have you grown over time? 
Musa: We started in 2012 and have been pushing ever since. 
Micole: Yes, we came up with the name "Bread and Butter Farms" in 2015 because initially, we were farming without a name. We were operating, giving produce to families, selling a little bit here and there. But we became "Bread and Butter Farms" once we were at the Athens Farmer's Market. The name came because I make bread and cakes and Musa makes butter. We took that to the market with us and the produce, which is how we began.  
GSIC: That's awesome. Did you grow up farming, or did you get more involved as you got older? 
Micole: I grew up growing and gardening. My mother and my uncles always had gardens. I come from an agricultural family to the point where agriculture was the only thing that supported the family. My mother grew up on a self-sufficient farm operation. Everything came off the farm – we grew cotton, corn, and mostly cash crops. We also had chickens and hogs. My father grew up in the same kind of farming operation as well.
It was deeply rooted in my upbringing; I was the only one out of four kids interested in it. Every fruit seed I got, I grew. I grew some flowers on my front lawn and my parents, thankfully, let me have that independence to be able to do that. I'd have my gardens, too. When Musa met me in college, I had a balcony garden. So, I've always loved growing.
Wherever the two of us moved, I said, "We have to have sun; I have to be able to grow something!" When I met Musa, he shared that he grew up on a farm. He'd still go back to the farm while we were in college, going to visit his grandfather and help him on the family farm in Monroe. Musa has more of an upbringing with agriculture firsthand, and my family was more into gardening. I'd say that I'm first-generation, returning to farming, and Musa is a second-generation farmer.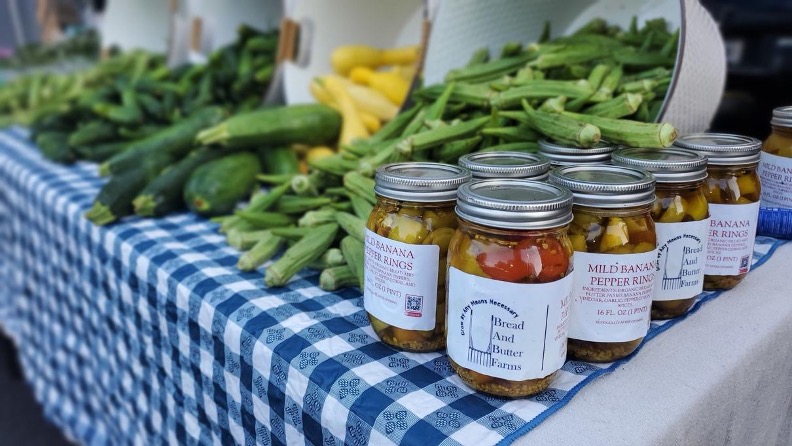 GSIC: How has building connections and relationships helped you all run and expand Bread and Butter Farms? 
Micole: We're so grateful for our network. We try to reach out and take part in whatever we can in terms of growth and development, but we are also pretty selective about opportunities. We don't deal with any bank loans, and we don't deal with any interest. It is very important for us to be able to farm and make an impact without it being stressful and without negatively impacting our mental health.
Because farming is very stressful, you put everything in the ground at the beginning of the season. And we lost 85% of our crops, for example, from the frost that we got a couple of weeks back. So, you do these things, and sometimes it feels like you're on a hamster wheel. But thankfully, we have a network. We do have places like Emory Start:ME, where if we need to share something, they can help us.
We have the opportunity to work with the American Heart Association and receive publicity through that. We work with MARTA stations and various farmers' markets. We also meet people in different organizations and partner with these micro-food systems throughout Atlanta. We try to collaborate with them and provide them with produce the best way we can because we're kind of far out – we're an hour from Atlanta.
So, connecting with those individuals and knowing that our food is getting to the people who need it is a huge thing for us. We're happy to work with anybody who moves in a direction parallel to our values and what we feel.
Working with the school system is another opportunity for us. Starting with the kids, you need to build from the ground up. Creating that knowledge base and that interest when it comes to agriculture and farming, that's how we move. When it comes to SNAP benefits and people that are low-income, we try to squeeze into that space as well.
Good food is not a privilege. You shouldn't have to make a certain amount of money to go to Whole Foods and be able to buy stuff – and who knows how old the food is!
Anybody that needs food should be able to get it. 
Musa: That's exactly right!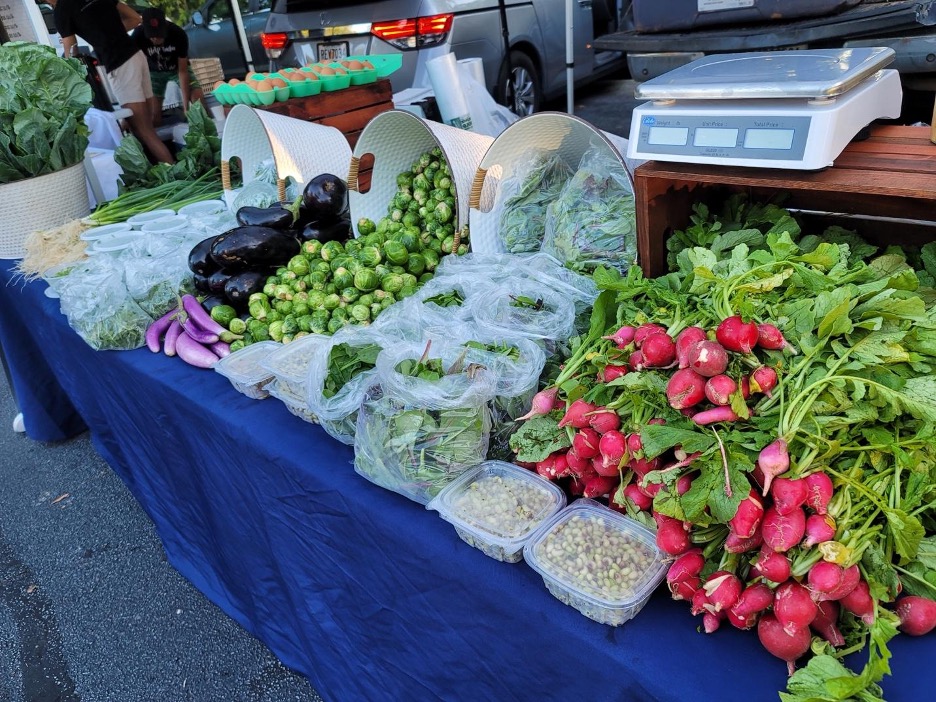 GSIC: Can you all speak to Bread and Butter's farm share initiative and the benefits of this farming model? 
Musa: So, the farm share is pretty straightforward, and it is a model that started in Tuskegee, Alabama. Basically, the idea is to have individuals interested in zero chemical, organic produce. They buy into the program ahead of schedule – so people start purchasing full and half shares around November and December for the springtime growing season. A family of four might buy a full share, and they would get a weekly distribution of veggies for ten weeks. That allows us to know exactly how much we grow and who we are growing for. Those seeds and plants are already allotted, and as farmers, we don't want to waste anything. It helps us save tons of food.
And there's a difference in quality, too. When you're eating certain types of food, and you go to a farm or a farmers' market and grab something harvested less than a couple of hours before, or at most a day, the taste is absolutely amazing. Even if you are buying conventional produce, just the fact that you're getting it earlier than two weeks, the taste is different. And we don't use any chemicals or pesticides either, so the nutrient density of the plant and produce is astronomical.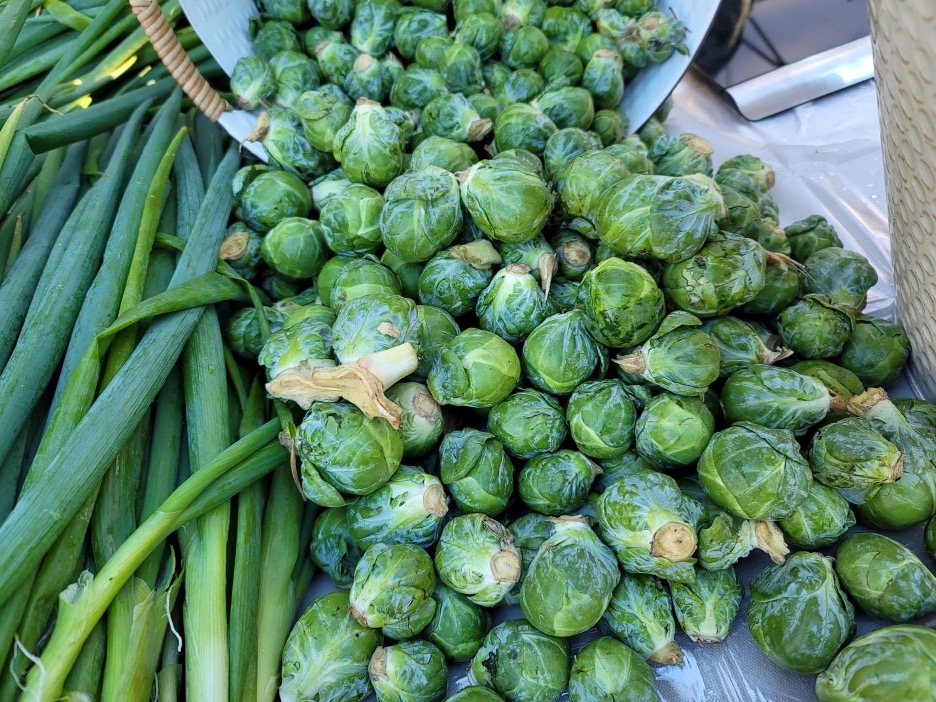 GSIC: Do you all teach people how to farm as well?
Musa: We are working on that, and we recently hired our first staff member. We're hoping to hire another person, which will free us to host more farm dinners and workshops. 
Many people don't understand what's happening in society right now. There's a decline in produce and meats, and other food products that are typically readily available. Our culture needs to understand growing practices and the benefits of growing.  And just growing, even if they live in an apartment, to grow whatever they can. "Grow where you are" has been one of our mottos since we started.
Micole: Exactly, and the whole agricultural system in the U.S. is not sustainable. The conventional farming system, mass-producing everything and importing, is not sustainable because it destroys the land and the soil. 
If we can get more micro farms and micro gardens going, people don't have to be so co-dependent on a grocery store. Then, if there's a fault in the system, people can keep moving without stress and pandemonium. We have been talking about moving more to an educational farm-based operation instead of market and Community Shared Agriculture (CSA) models.
As we age as farmers, that's something that we think about – how long we can sustain the physical labor and how much longer we can keep doing it. We can't assume that our kids will automatically want to farm and carry on the business, and a lot of times, that's not the reality with farmers. We are considering and remain passionate about creating an on-site educational program for people who want to learn how to farm as a business or just learn how to grow.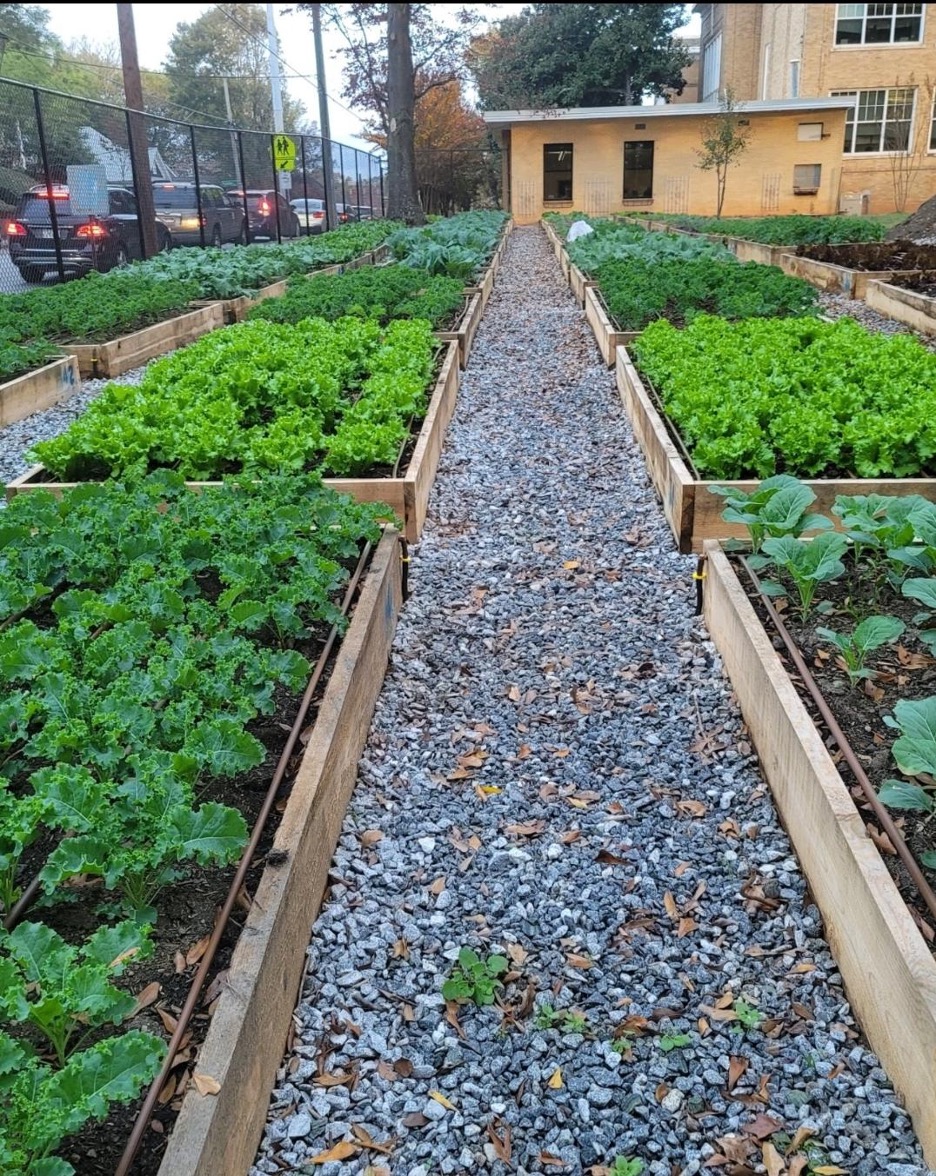 GSIC: What do you believe is Bread and Butter Farms' superpower?
Musa: I'll answer for Micole, and she can answer for me. Micole's superpower is her organization. With thinking outside the box and her critical thinking skills, she's a chess master when it comes to outlining details that I wouldn't typically think of when it comes to business, farming, and things of that nature. Her creativity and great ideas – that's a huge superpower. 
But other than that, honestly, it's the balancing she's consistently doing. This balancing act between a wife, mother, and business owner, engaging in self-empowerment and community development. All of that together, I think, is a superpower. 
Micole: Thank you, babe. I appreciate that! Musa is a networking king. He's good at greeting people and getting into spaces that will benefit us. He's great at making connections that end up helping us in the present moment or down the line. 
Another thing is his work ethic. He has a way of tunneling in and getting things done. He helps me execute my ideas, and he's good with numbers. I think we're a good business match in that way. He presents information in a format that people can read and understand, which has helped us in our grant writing and securing funding. We're playing off our strengths.
GSIC: What other programs are you planning to start at Bread and Butter Farms? 
Micole: We're pushing our farm stand to get more people down to the farm. It's a precursor to having a school program, so we want more people to learn about growing. Those happen on Sundays. As we move forward, we're hoping to grow and develop more as a company. We'd also love to provide jobs for more people interested in agriculture. 
Musa: Yeah, we think that's important. Our whole motto is self-sustainability. Farmers' markets are good spaces to be in as a farm, but we may not always be able to depend on them. 
Everything is done as a steppingstone to something else. Bill Gates purchasing farmland, for example, is a stepping stone to things that might come down the pipeline. Rules and the policies that get passed will likely protect big corporations or other big farmers from small farmers. Down the line, this might require farmers to get different certifications to keep farming. To avoid those regulations and policies that will come later, we believe that selling from our farm itself and dealing with the people around us will help us as we move forward.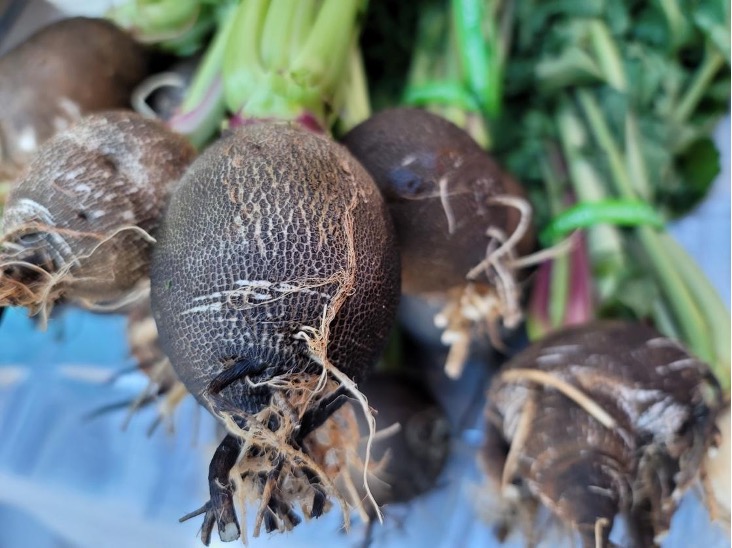 GSIC: Thank you both so much for your time.
###
Get connected and learn more about Bread and Butter Farms!
Bread and Butter Farms Instagram | Facebook
Monroe, GA. 30655 | 470-487-3959 | [email protected]
https://gasocialimpact.com/wp-content/uploads/2022/06/Bread-Butter-Blog-1.jpg
590
624
Sydney Hulebak
https://gasocialimpact.com/wp-content/uploads/2018/09/gsic.png
Sydney Hulebak
2022-06-06 15:30:52
2022-06-06 19:28:03
Entrepreneur Profile: Micole and Musa Hasan, Bread and Butter Farms