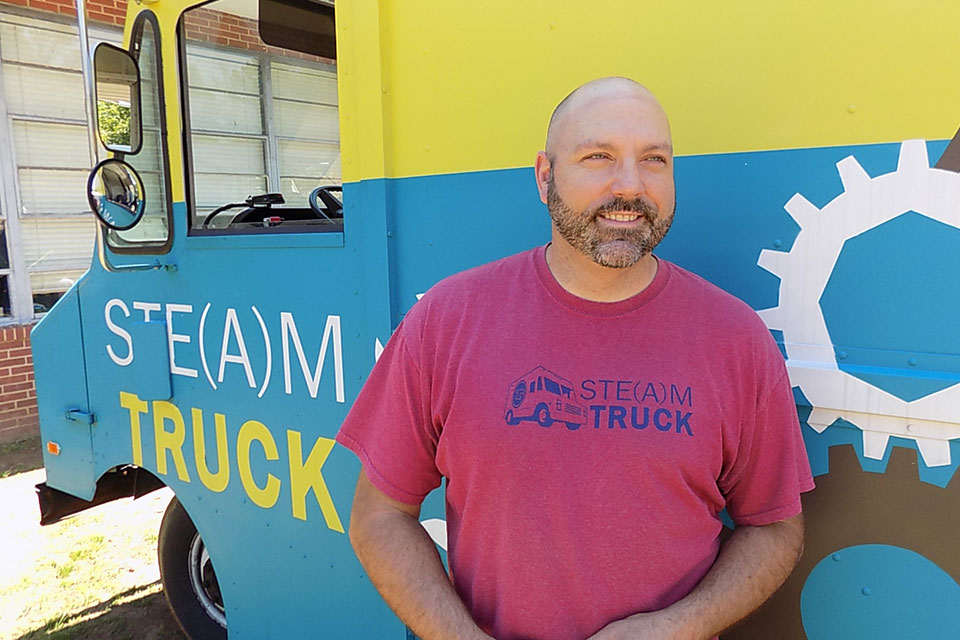 Profile Summary:
Entrepreneur Name: Jason Martin
Venture Name: Community Guilds [STE(A)M Truck Program]
Impact Focus Area(s): Education, Community Development, Work force development, Professional Development, Capacity Building
Business Stage (Ideation, Startup, Early, Later, Mature): Later
Year Venture Established: 2013
Business Type: Nonprofit Social Enterprise
The Issue
Social entrepreneurship is about solving problems. Tell us about the challenge you are focused on addressing and why it is critical that we make progress.
"Our mission is to close opportunity gaps and eliminate inequities by transforming teaching and learning through an experiential maker approach. 
 We do two things well:  
We give kids an opportunity to get their hands dirty and make things.
We empower teachers to continue this work once we drive away. 
We are best known for our STE(A)M Truck Program which deploys a growing fleet of mobile makerspaces filled with real tools and local experts and parks it where kids, and their teachers, can tackle real problems, design solutions and build things together.
We exist because zip codes too often determine access to opportunity.  We target youth most unrepresented in STEM careers and focus on 21st skills needed to thrive in the real world.  Our work begins to ensure equity and opportunity regardless of where you live or the school you attend.  Ultimately, we aim to end generational cycles of poverty as the City of Atlanta is one of the least upwardly mobile cities in the United States.  We believe that inequality means lost opportunity for all."
Your Journey
Entrepreneurship is a journey that requires connections and support from a wide array of stakeholders across the ecosystem to help successfully identify, start, and grow a social enterprise.
"I started by asking a question… How can we eliminate inequity and catalyze transformation by leveraging the assets and expertise that exist within communities? Defining 'how' has evolved over time from our original apprenticeship program to the mobile makerspaces we use today.
This work was shaped and formed by many but first and foremost I think of Matt Candler at 4.0 Schools, as a true catalyst.   Early on they helped me prototype ideas while investing seed money to help me test out new possibilities.  Originally, I did not think of myself as an entrepreneur, but 4.0 Schools allowed me to reinvent myself and offered an opportunity to think outside the box.   
With a more refined idea in place, the Points of Light Civic Accelerator helped me dig deeper into the business model.  I was then selected as a finalist for Teach for America's Social Innovation Award which offered fantastic coaching as we attempted to navigate systemic educational reform.   We then opened our first office within the Center for Civic Innovation (CCI) here in Atlanta.  CCI allowed us to set up shop, do our work, meet like-minded social entrepreneurs, and develop deeper roots across the city.      
Leadership Atlanta also played a significant role in my journey as I was a part of the 2016 class. The peers in my class were critical relationships– one classmate now serves as our board chair and others have helped our program grow including Dean Erika James at the Goizueta Business School who helped us connect to the Goizueta Impact Investors for an early stage loan. 
An important part of our journey came from the legal support of the Probono Partnership of Atlanta. They helped us with our board governance, contracts, risk management, and more. Our assigned volunteer attorneys became advocates for us in important ways
As a nonprofit, we have had several game changing investments over the years.  The first came through the Arthur M. Blank Family Foundation who understood the potential of the maker movement to "light children's imagination on fire".  With a background as an educator, I was able to tap into support from the Governor's Office of Student Achievement (GOSA) for an innovation grant that helped us build out a robust evaluation framework and showed that our work has measurable impact. Lastly, the Goizueta Foundation offered a significant, multi-year grant to bolster our internal infrastructure during our second year of operations, without which we would not have been able to grow."   
Why Georgia's Social Impact Ecosystem Matters
Being an entrepreneur is hard and it's even more challenging when you are a social entrepreneur as your business model and / or structure doesn't follow the same path as traditional start-ups. 
"I would like to see more places created for nonprofit social impact entrepreneurs to gather together as peers to learn from one another.  We may not always call it an ecosystem, but you would be hard pressed to find a successful business that didn't have a strong support system surrounding it.  I think codifying what that support looks and making it easier to navigate is important and benefits us all.
From a funding standpoint, finding investments beyond the smaller seed grants for nonprofits can be challenging. I would like to see more "go big" investment opportunities for organizations that are at a later stage.
Lastly, the privilege that I have should also not be dismissed.  If I was young, poor, a woman, or a person of color, with a different educational background, my journey would have had much different challenges. As we build Georgia's ecosystem we need to prioritize equity and opportunity for a diverse set of entrepreneurs."         
Interested in learning more about Jason and Community Guilds, please visit:
https://gasocialimpact.com/wp-content/uploads/2018/10/jason-steam-truck-1.jpg
640
960
GSIC Admin
https://gasocialimpact.com/wp-content/uploads/2018/09/gsic.png
GSIC Admin
2018-10-02 09:57:45
2018-10-03 11:15:59
Jason Martin of Community Guilds