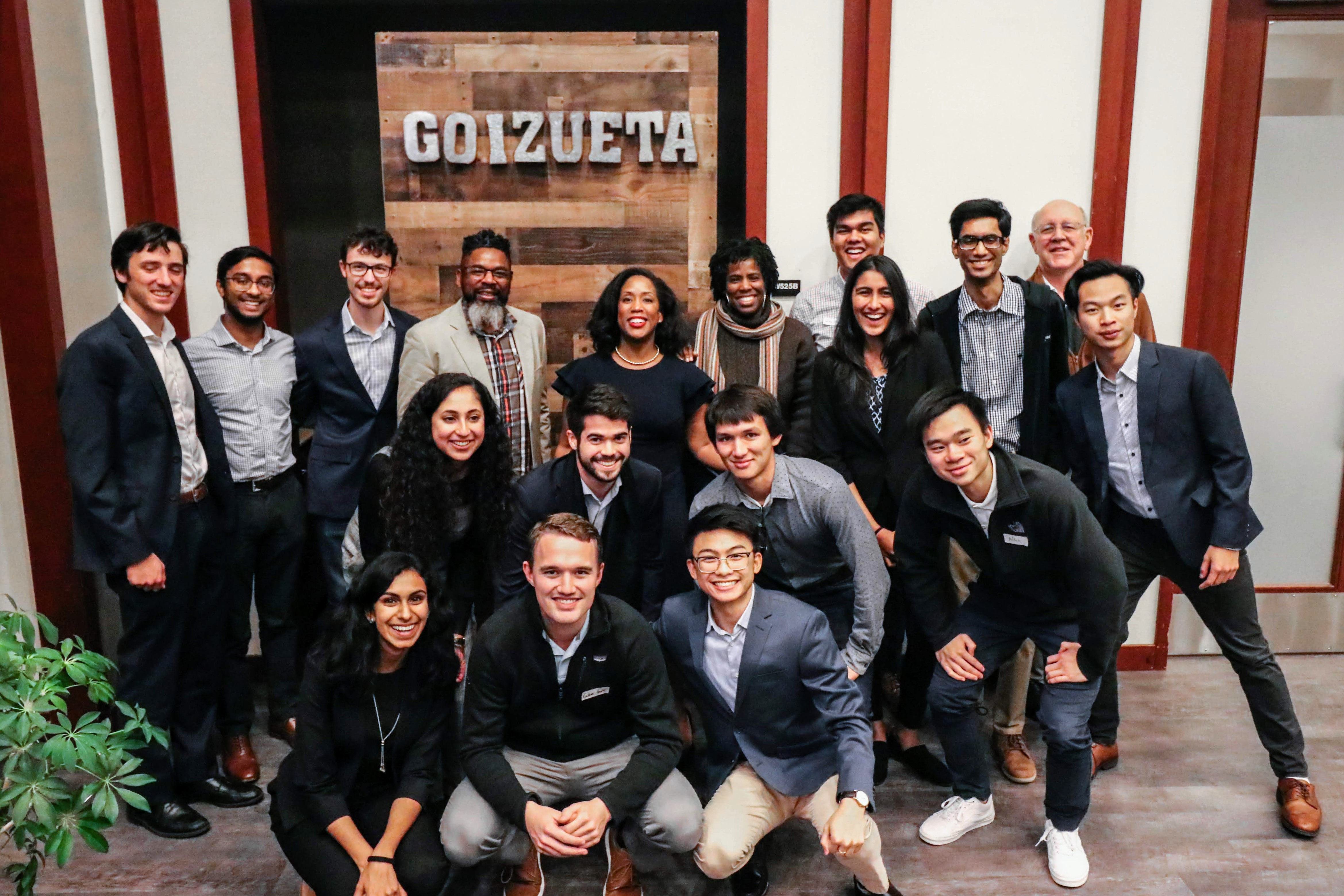 Emory Impact Investing Group
By: Aayush Gupta (22C)
November 26, 2019
"Most people think of entrepreneurs as risk-takers. I was taught that you have gifts, you have talent, so you invest in those," said Kevin Rodgers, founder of SHWAXX Laboratories.  
On Wednesday, November 13, Emory Impact Investing Group (EIIG) hosted a panel attended by students, faculty, and Atlanta community members, at Emory University's Goizueta Business School.  
The event discussed the challenges and experiences of entrepreneurship, and how impact investing can facilitate the empowerment of small businesses in local communities. Almost 48% of the American workforce is employed by small businesses, accounting for approximately 44% of the American GDP. There is, however, a large gap in the presence of micro-businesses between high-income and low-income areas. The difference can be attributed to the income gap and inequality in the U.S., as corroborated by Goizueta's very own Professor Peter Roberts' research.  
EIIG, led and run by undergraduate students, aims to provide microloans to local entrepreneurs who lack access to capital in an effort to help close the micro-business gap by increasing the number of successful small businesses in high-poverty areas. This goal is pursued by providing access to early-stage financing, student consulting, and networks necessary for the sustainable growth of a business. Three of the several entrepreneurs that EIIG works with were featured at this panel: Kevin Rodgers, founder of SHWAXX Laboratories, a company selling hair care products targeted towards people of color, Akissi Stokes, a former Emory graduate (92 Ox, 94C) and founder of WUNDERgrubs, a bakery that sells protein-rich mealworms through traditional snacks (cookies, granola bars, protein powder) to deliver increased nutritional gain to customers, and Nicole Massiah, founder of Massiah Law & Associates, a company providing legal services.  
Also in attendance were representatives from Start:ME and CREATE, two Atlanta-based accelerators that EIIG works with to identify and assist promising entrepreneurs.  
Brian Goebel, Managing Director at Start:ME, extensively discussed the research conducted by Professor Roberts and how it shows the disparity in the presence of microbusinesses between high and low-income neighborhoods. "[There is] no difference in talent, there are amazing entrepreneurs in both low-income and high-income communities. But there is a difference in the ecosystem of support, and on average there are 26% fewer businesses in an underserved, lower-income neighborhood," Goebel explained.  
More important than just the financial inequalities, however, is the availability of networks that help a business succeed. It is essential to have a system to advise and support an entrepreneur. Start:ME was founded on the principle of "[bringing] knowledge networks and capital together" to reduce this microbusiness gap in Atlanta, the city with the highest level of income inequality in the U.S.  
Jonathan Tescher, Program Manager at CREATE, said that these entrepreneurs have a lot of "common challenges, obstacles, and fears" that they face. CREATE strives to help them overcome these issues with their program, through which they impart knowledge and training to the entrepreneurs to help them tackle the problems facing them. "Most people we work with have no prior business experience," he said, which means they often lack the skills necessary to start and grow a company of their own.  
Entrepreneurs face many barriers when starting their own businesses. CREATE, Start:ME and EIIG make sure they don't have to overcome those barriers alone.  
This is part one in a series on student-led impact investing.  For part two, see Emory Impact Investing Group (EIIG) Invests in Atlanta's Entrepreneurs.
# # #
Run by Emory undergraduate students, Emory Impact Investing Group (EIIG) provides microloans and financial consulting services to Atlanta entrepreneurs to unlock the full economic potential of traditionally high poverty areas by increasing the number of successful small businesses. EIIG is currently fundraising $40,000 by December 31; if you'd like to contribute, please visit their website.
https://gasocialimpact.com/wp-content/uploads/2019/11/Part-1.jpg
3118
4677
Jonny Newburgh
https://gasocialimpact.com/wp-content/uploads/2018/09/gsic.png
Jonny Newburgh
2019-11-26 10:53:44
2019-12-18 14:11:30
Atlanta Entrepreneurs Discuss the Benefits of Impact Investing at Emory University