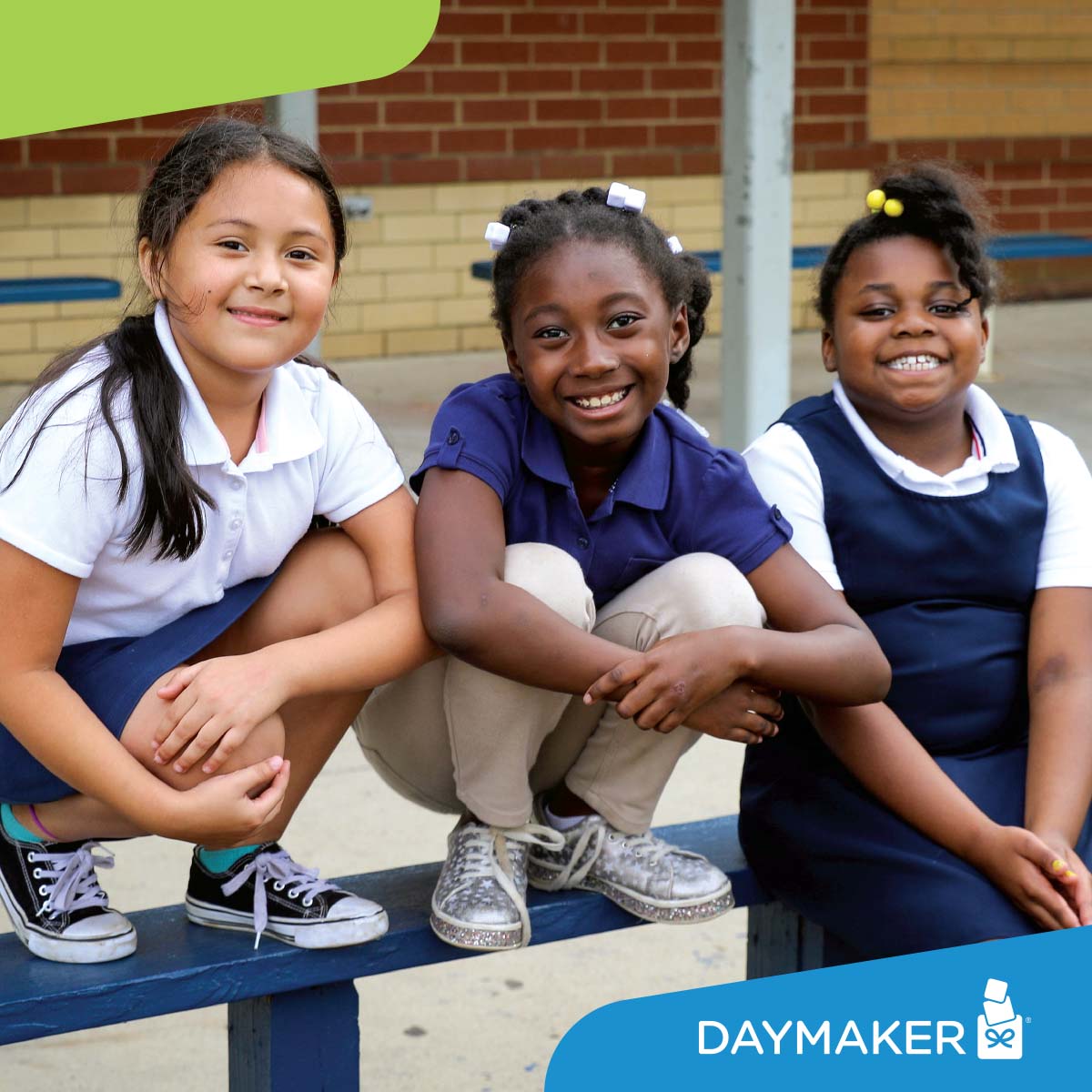 August 27, 2020
By: Brent Macon, Chief Partnerships Officer
At its heart, Daymaker is a compassion platform. We believe that giving expands our capacity to love one another while transferring resources so that every kid can develop into a life of physical, emotional, and spiritual wellbeing. 
Our product has historically helped companies run seasonal giving campaigns like Back to School and Holidays that enable employees to empower kids in their local communities by donating gifts and much needed supplies. We fulfill those gifts in partnership with high-impact 501(c)3 nonprofit partners serving children who lack access to resources. The hallmark of Daymaker is that it is personally connective. Donors give to a specific child whose story they get to learn about, developing a sense of kinship as they share love and resources. 
We believe we are all connected in our shared humanity, and our team has been looking for ways to deepen the support we offer to the wonderful children on our platform. These kids often lack access to the tools and experiences needed to thrive, through no fault of their own. Adverse Childhood Experiences (ACEs) compound the developmental challenges. The pain and tragedy of systemic racism and the disproportionate impacts of COVID-19 on marginalized communities have made the need for equity conversations more clear and more pressing. 
Starting with our back-to-school campaign that is currently live, Daymaker is announcing the 'Receiver's Journey' element of our platform – a shift towards making a long-term commitment to the kids and nonprofits on our platform, with expanded ways for donors to support and empower the children they give to. 
We've asked our nonprofit partners to make a commitment to have kids on the platform for 3 or more years. Donors will still give during seasonal giving campaigns, but they'll see expanded wishlist items and the opportunity to help with more holistic interventions in addition to one-off gifts and supplies. For our back to school campaign, that means we have standard school supply kits, but have also added face masks, books celebrating diverse heroes, and 'Daymaker Discover Bundles' that come once a month over the course of the fall and keep kids engaged and inspired. Longer-term, we plan to help with things like consistent access to counseling and healthy meal kits.  
See below for example of current wishlist: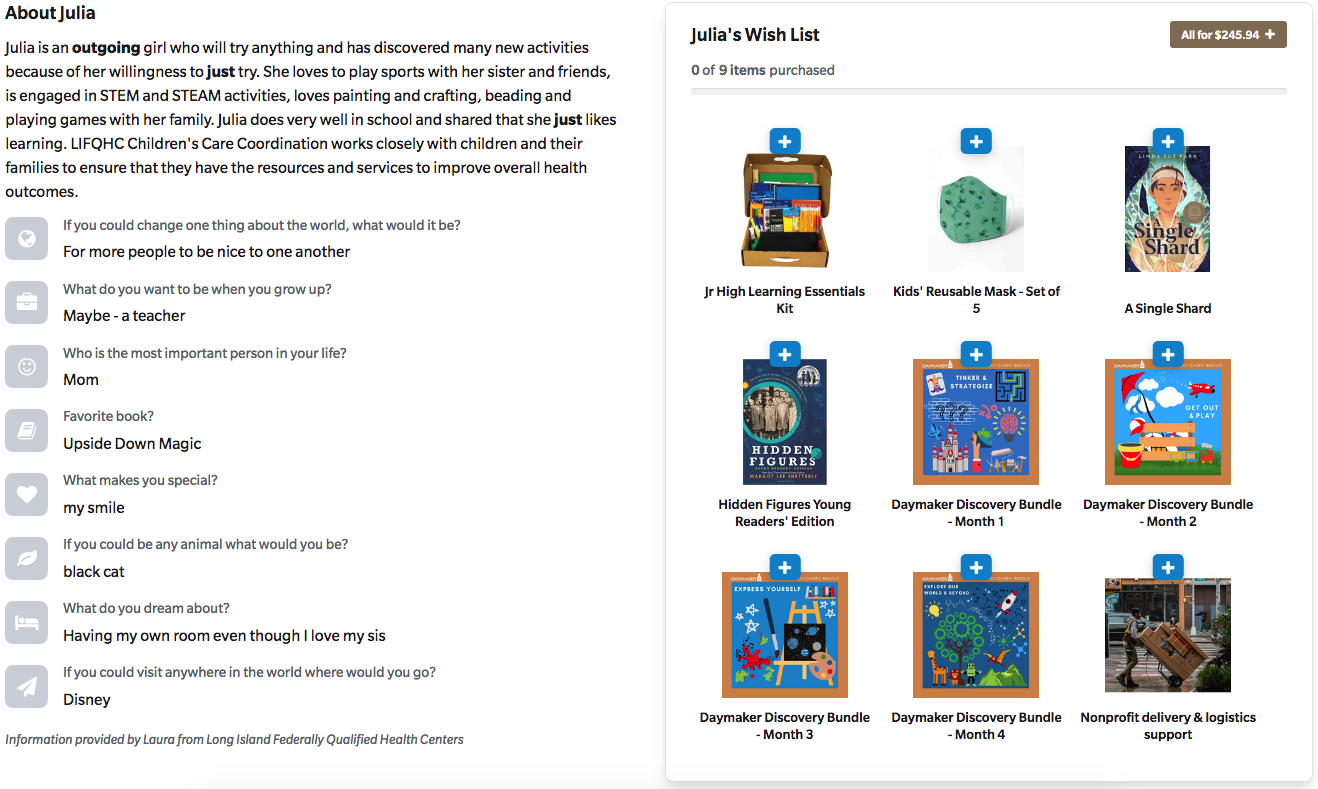 Givers will be able to support the same kid over multiple campaigns, donating alongside their teammates and creating a sense of longitudinal connection.  This shift will offer children more sustainable, consistent, and reliable support from people in their community, fostering a more inclusive and cohesive space for them to develop and grow as human beings.  
To make this change, we've worked with each of our nonprofit partners to identify fit with this new model and determine the unique needs of each community during this 2020 back to school season.  During one of those conversations, a nonprofit leader said something that has resonated with us ever since: "Sustained support from outside the home would've changed the whole story that it was me against the world."
We are hopeful that these changes to the Daymaker product will bring more light and love into both the giver and the receiver's experience, because the shared journey of giving is the foundation for a healthy, vibrant community.  We know there are challenges in every community, but together, we can help tell a new story. 
###
Daymaker is a benefit corporation with central operations in Atlanta; to participate in the current 'Hope at Home' campaign, please visit our Daymaker 'Friends and Family' campaign page.  If you are interested in turning on a giving page for your company for the Holiday campaign, please reach out to Brent Macon, [email protected].
https://gasocialimpact.com/wp-content/uploads/2020/08/Post_1200-B2.jpg
1200
1200
Sydney Hulebak
https://gasocialimpact.com/wp-content/uploads/2018/09/gsic.png
Sydney Hulebak
2020-08-27 11:44:52
2020-08-27 11:44:52
Using Seasonal Giving to Make Longitudinal Impact