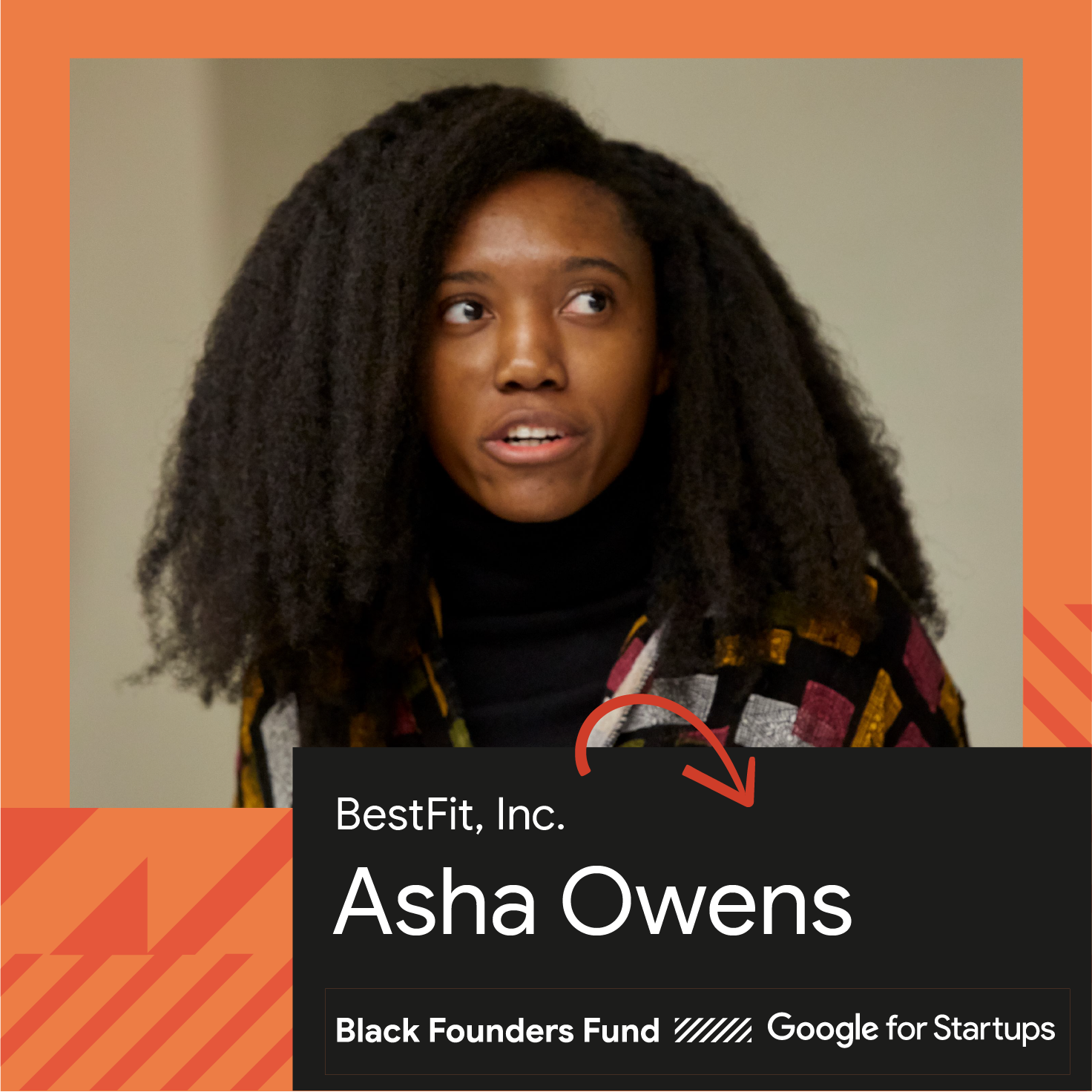 September 21, 2021
Asha Owens, is one of 50 founders selected for Google for Startups program focused on high potential startups from Black entrepreneurs based in the U.S. 
BestFit, Inc., an early-stage startup addressing basic needs insecurity among college students, today announced it was selected to join the second cohort of the Google for Startups Black Founders Fund, a $10 million initiative designed for Black founders, who are building great companies yet are often locked out of access to the funding that is critical to their success. 
Last year, Google for Startups gave 76 Black-led startups up to $100,000 in non-dilutive funding, helping them keep their doors open, pay their employees, and focus on building their businesses. With this second $5 million investment in the U.S. Black Founders Fund, 50 more founders across the United States will receive $100,000 in non-dilutive capital, meaning founders do not give up any ownership in their company in exchange for funding. The fund also includes technical support from tools and teams across Google, including as much as $120,000 in donated search Ads from Google.org and up to $100,000 in Google Cloud credits. Last year, founders who received awards went on to raise more than $50M in capital and 80% of recipients used the funding to create jobs. 
BestFit, an online platform where college students connect with basic need resources, like food, tech, and housing, is one of a select few high potential startups that the Google for Startups team has selected for this year's nationwide cohort. 
"After participating in Google for Startups' Founder Academy, we were thrilled to have the opportunity to apply for the Black Founders Fund. Google's curriculum, guidance and mentorship made a huge difference in the trajectory of our company and helped us craft a stronger business strategy, improve our operations, and increase revenue," says Asha Owens, founder, BestFit. "This support from Google for Startups comes at a critical time for our growth—allowing us to make key hires and critical product improvements. Ultimately, this enables us to scale our work in the wake of COVID-19 and ensure that thousands of students have access to programs, services, and benefits that will help them meet their academic goals, graduate, and go on to create generational wealth." 
"The Google for Startups Black Founders Fund embodies our mission of helping underrepresented founders grow their businesses. We are excited to continue the fund and contribute funding to Black founders, with no strings attached. Black founders currently receive less than 1 percent of total VC funding," says Jewel Burks Solomon, Head of Google for Startups US. "We heard loud and clear from the 2020 fund recipients that Google for Startups and Goodie Nation have been crucial to their success not only through funding, but through community, mentorship, network connections and technical expertise." 
"Our advisors will be working with the founders to discuss business pain points, offer introductions to customers and investors and provide regular therapy sessions and forums to support recipients emotionally and professionally," says Joey Womack, CEO of Goodie Nation.
BestFit uses behavioral science, cognitive science, and equity-centered design to create products that remove the burden of finding help for college students. We provide technology to colleges & nonprofits looking to address basic needs insecurity on campus and in their communities, and we work with mission-driven companies looking to create sustainable, scalable social impact. In the coming months, our goal is to increase the number of social services and programs our platform screens for, expand our network of college and nonprofit customers, and engage more corporate clients. 
###
ABOUT BESTFIT 
BestFit is on a mission to remove non-academic barriers for students at risk of dropping out because they cannot afford to meet their basic needs like, tech, housing, and food. We empower students to build their own support systems by connecting them to on-campus, community, philanthropic, and corporate resources. In 2021 alone, we've connected Georgia college students to over $100,000 in tech resources and helped students determine their eligibility for ~$500,000 in benefits and social services. The team's nationally-recognized work is funded by organizations like the Bill & Melinda Gates Foundation , Cox Enterprises Social Impact Accelerator powered by Techstars, and Community Foundation of Greater Atlanta. To learn more, please visit best-fit.app. 
ABOUT GOOGLE FOR STARTUPS 
Google for Startups works to level the playing field for startup founders and communities to succeed by bringing the best of Google's products, connections, and best practices to startups. Paired with a deep commitment to create diverse startup communities, many of our offerings are designed specifically to provide underrepresented founders with access to resources and opportunities. We support startups everywhere to build something better. Because when startups succeed, we all succeed.
https://gasocialimpact.com/wp-content/uploads/2021/09/georgia_bff-bestfit.png
1472
1472
Sydney Hulebak
https://gasocialimpact.com/wp-content/uploads/2018/09/gsic.png
Sydney Hulebak
2021-09-22 10:35:15
2021-09-22 10:35:15
BestFit, Inc. Selected for Google for Startups Black Founders Fund