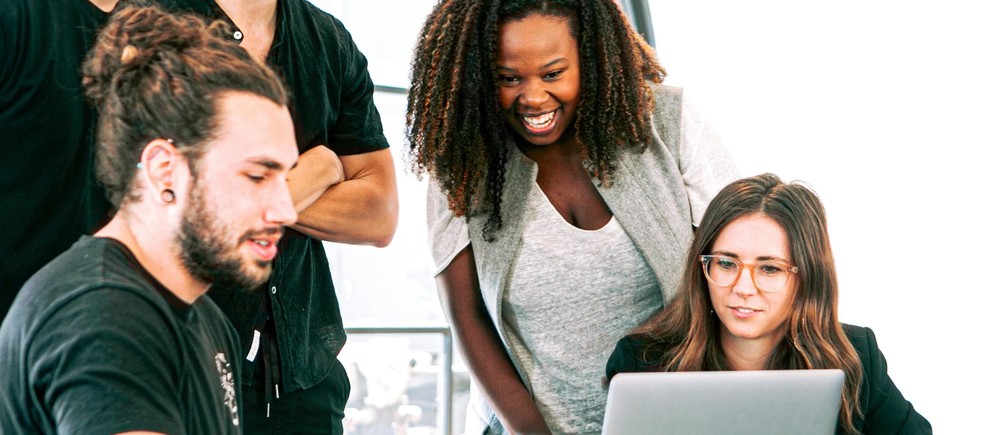 Originally posted by The World Economic Forum
By: Judy Oh, Global Shaper, Atlanta Hub, BrightHouse
January 15, 2020
Millennials and Gen Z will be the majority of the workforce in 2020.
For younger generations, workplace purpose must be reflected by authentic actions.
Companies can examine purpose through the lens of humans' innate psychological needs.
We are entering a new era in which the purpose of a corporation is evolving from the shareholder-centric model to one that serves to benefit all stakeholders. Corporations looking to thrive in this beyond-shareholder world must focus first on creating a purpose-driven employee experience, as employees have the potential to be a corporation's strongest advocates and champions.
Specifically, corporations that want to succeed must engage millennials and Gen Z, as their presence in the global workforce will represent 59% in 2020.
For this new generation, it is not enough for their employers to simply have a compelling purpose. They want to see purpose lived out authentically through bold actions. As evidenced by the 32,000 French students from over 300 universities who have signed a pledge to only work for environmentally conscious companies and more than 1,000 Google employees across the world who staged a walk-out in protest of sexual harassment, misconduct and lack of transparency, they are emboldened to hold their companies accountable to their purpose.
Understanding the new generation of talent
To understand how to engage and motivate this new generation of talent, corporations need to examine their needs through a human lens. Motivation psychologists Edward Deci and Richard Ryan found that all humans have three innate psychological needs essential for well-being: autonomy, sense of belonging and mastery.
While these needs are universal, they have new timely meaning and implications for millennials and Gen Z in the workplace.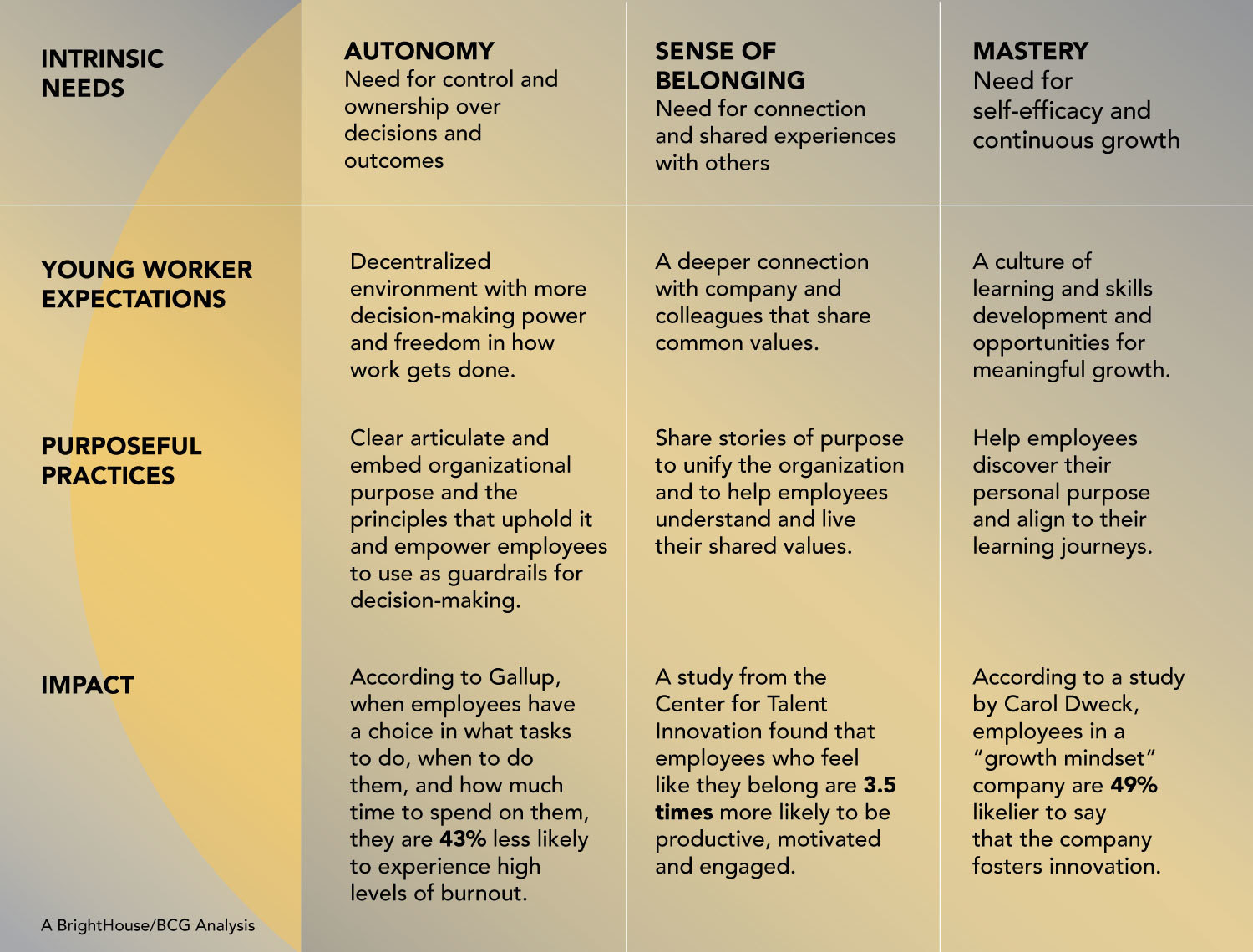 1. Autonomy
Younger workers are looking for more decentralized environments where they can decide how work gets done. A Gallup study of the American workforce finds that 42% of millennials would switch to a job that allows them to work independently on a project of their choosing and 63% to a job that allows them flextime.
2. Belonging
Newer generations are looking for a deeper sense of connection in the workplace. A study by BridgeWorks shows that millennials and Gen Z consider their work a reflection of their identities, while a study by American Express shows that 75% of millennial leaders prefer to work with people and organizations that share their values.
3. Mastery
The new generation of talent is prizing employability above long-term employment. They seek continuous skills development and want to find meaningful growth opportunities at work. A global study by Manpower Group indicated 93% of millennials want lifelong learning, and four out of five said the opportunity to learn new skills is a top factor when considering a new job.
The lens of purpose
Purpose, which is the company's reason for being, is the most powerful tool companies have at their disposal to meet the intrinsic needs of new talent. Purpose guides culture – providing a framework for consistent decision-making, creating connection through shared values and inspiring employees to reach their unique mastery. In order to fulfill the intrinsic needs of the new generations, companies must use purpose to reimagine the employee experience in three ways:
1. Purpose and autonomy
While the new generations crave expanded notions of autonomy, organizations cannot simply extend it without a mechanism for alignment. Purpose is the single most powerful edit point that aligns the organization. By clearly articulating and embedding the organizational purpose and the principles that uphold it, employees will be empowered with guardrails to make decisions at any level.
For example, Delta Airlines' purpose harkened back to its founder's philosophy of "customer service and hospitality from the heart" and inspired the "flat tire" policy, in which service agents were empowered with the autonomy to waive fees for fliers delayed by unforeseen circumstances.
2. Purpose and belonging
Purpose is a rallying cry that drives employees to emotionally connect to the company and to each other. When fully leveraged, purpose is not a static statement, but a powerful unifier and foundation for employees to understand and live their shared values.
KPMG, the international audit, tax and advisory firm, reinforced a sense of belonging within the organization through purpose-driven storytelling. In 2014, KPMG unveiled the Higher Purpose initiative, where the firm invited employees to share their own stories of purpose-driven work. It started a movement within the organization where more than 40,000 stories were shared across their 29,000 employee base, and key metrics, such as level of engagement, retention and pride, increased.
3. Purpose and mastery
To help employees prepare for the Fourth Industrial Revolution, companies will not only need to upskill and reskill employees to meet market demand, but also personalize their learning journeys to align with their personal purpose. This means fostering a growth-mindset culture and creating opportunities for employees to elevate their strengths and passions in their day-to-day.
Under Satya Nadella's leadership, Microsoft has used purpose to create a continuous learning culture. Microsoft's purpose "to empower every person and every organization on the planet to achieve more" has helped embed a growth mindset in performance and development processes, shifting their focus from being a group of "know-it-alls" to a group of "learn-it-alls."
To win in this next era, corporations must pay close attention to the unique needs of younger workers and reimagine the employee experience through the lens of purpose to deliver on those needs. Corporations that choose to act swiftly and deliberately in engaging this new generation stand to reap significant performance gains. By fulfilling the intrinsic needs of the new generations of talent, companies will enable them to unleash their full potential and be in a position to benefit from greater creativity, productivity and commitment.
https://gasocialimpact.com/wp-content/uploads/2020/01/workplace-1.jpg
435
1008
Sydney Hulebak
https://gasocialimpact.com/wp-content/uploads/2018/09/gsic.png
Sydney Hulebak
2020-01-17 13:22:54
2020-01-17 13:22:54
3 Rules for Engaging Millennial and Gen Z Talent in the Workplace