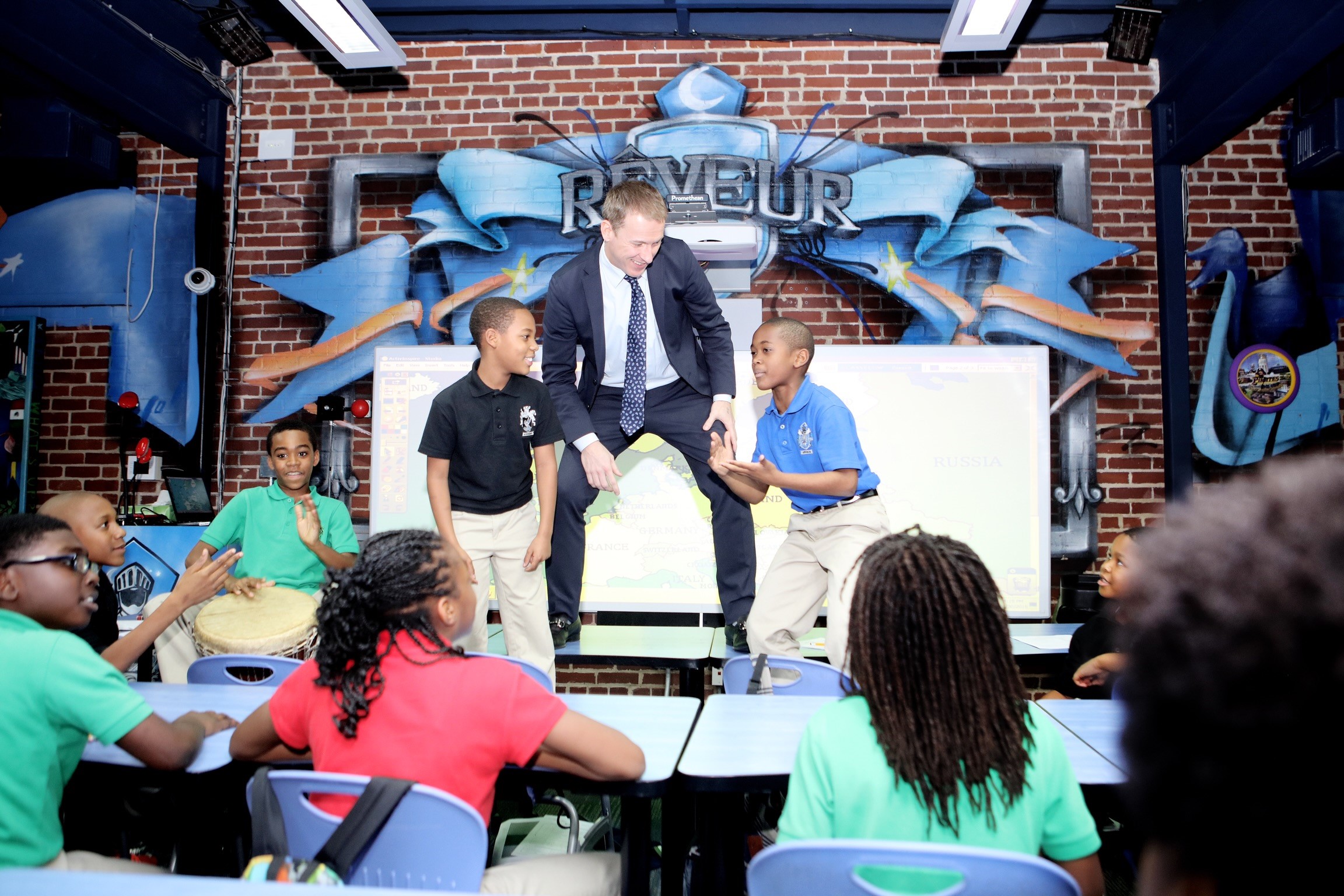 Originally posted by InvestAtlanta
January 7, 2020
Atlanta Emerging Markets, Inc. (AEMI), a U.S. Treasury-certified Community Development Entity created by Invest Atlanta, officially closed an $8 million New Markets Tax Credit (NMTC) transaction supporting the Ron Clark Academy (RCA).  SunTrust, now Truist, was the investment partner on this project.
The NMTC allocation will assist with the construction of the new 42,000-square-foot state-of-the-art Ryan Marshall Performing Arts Center, which will expand the existing school building both for student activities as well as for RCA's teacher training programs. As a result, the school will be able to serve an additional 30 students annually and train an additional 2,500 teachers annually, increases which will help make the school 100 percent financially sustainable as well as subsidize tuition for students from households earning less than $30,000 annually. The $23 million expansion will also create seven new full-time positions.
Located in South Atlanta in a formerly vacant warehouse, RCA is an innovative nonprofit middle school and teacher training facility founded in 2007 by Ron Clark and Kim Bearden, both award-winning educators. Stated on its website, RCA's mission is to: "Deliver the highest quality educational experience where global citizens are born through advanced rigor, engaging teaching methods, and a passionate climate and culture."
AEMI specializes in providing gap financing for projects that create jobs and revitalize Atlanta's distressed neighborhoods.  South Atlanta qualifies as "highly distressed" based on the 2011 – 2015 American Community Survey with a median family income of 31.84 percent of the area median income, a poverty rate of 40.9 percent, and an unemployment rate of 20.8 percent (2.5 times the national average).
Currently, the school teaches 150 children in grades fourth through eighth and offers a sliding tuition scale to assist families of all socioeconomic backgrounds. As a result of the school's huge success (100 percent graduation rate with 95 percent of its graduates attending college or enlisting in the military), the RCA developed the "Ron Clark Experience," for outside educators to learn about the school's unique techniques and practices. The registration fees for the training program help cover student tuitions and enable 14,500 teachers to come from around the globe and train at the school each year.
https://gasocialimpact.com/wp-content/uploads/2020/01/ron-clark.jpg
1536
2304
Sydney Hulebak
https://gasocialimpact.com/wp-content/uploads/2018/09/gsic.png
Sydney Hulebak
2020-01-09 16:01:17
2020-01-09 16:01:17
Ron Clark Academy to Receive an $8 Million New Markets Tax Credit Allocation