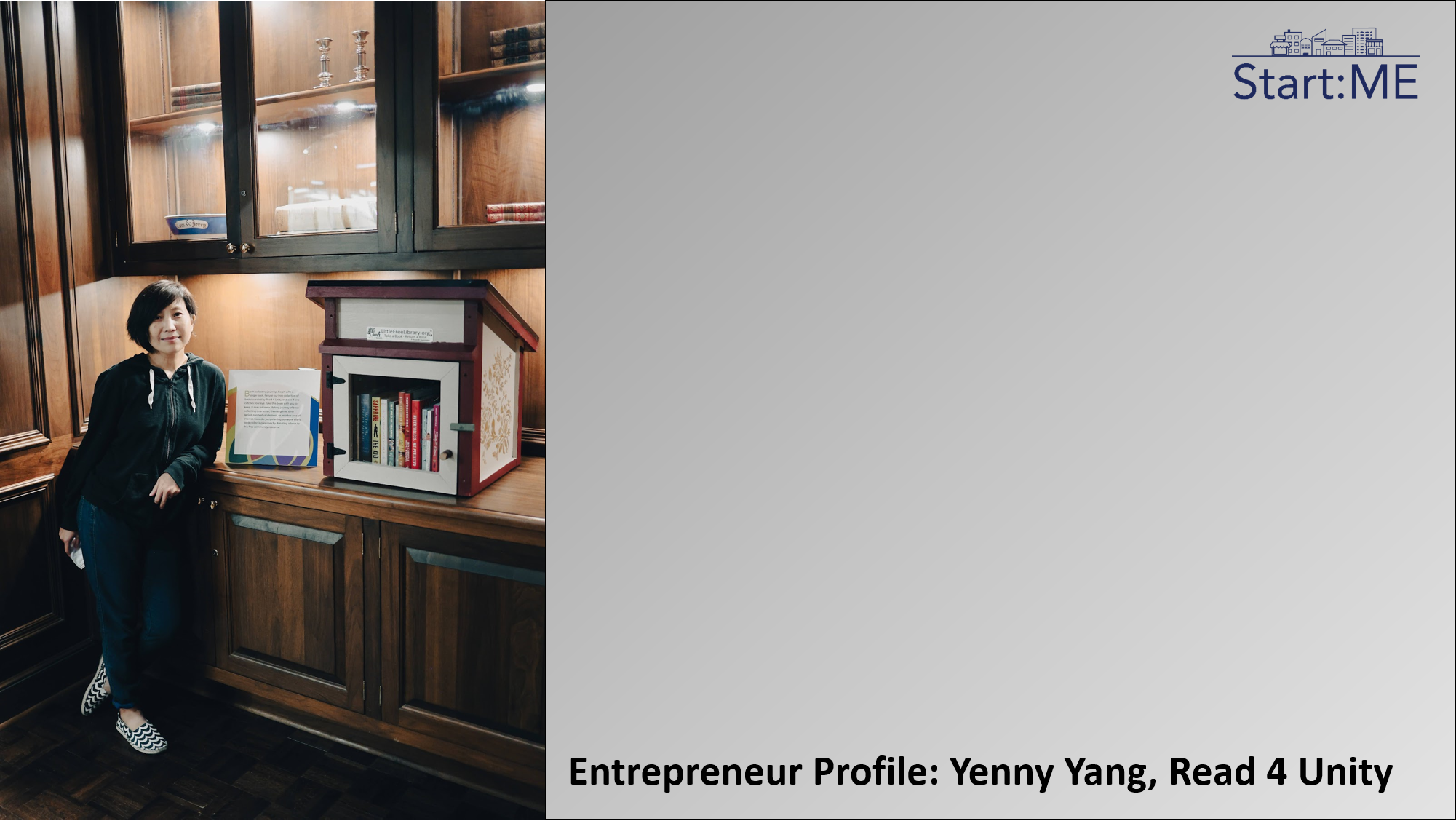 March 31, 2022
By: LaDerrius Williams, GSIC Social Impact Fellow
GSIC x START: ME x Read 4 Unity
Entrepreneur: Yenny Yang
Venture: Read4Unity
Impact Focus Area(s): Literacy, Diversity
Business Stage (Ideation, Startup, Early, Later, Mature): Ideation/Early
Year Venture Established: 2020
Business Type: Micro-Nonprofit
Yenny Yang is committed to creating a better tomorrow for our children and the next generations to come. In 2020, the StartMe: Clarkston alum founded Read 4 Unity, a passion project devoted to the power of literacy, diversity, creativity and unity. Read 4 Unity is currently a micro-nonprofit with a mission to diversify America's bookshelves. Yenny describes Read 4 Unity as being in its discovery stage. Yenny has yet to decide whether Read 4 Unity will transition from a non-profit to a for-profit social enterprise. She credits Emory's Start: Me program for helping her breakdown her long-term goals into more manageable bites, creating metrics to track her impact, and helping her craft a framework and operational runway to determine whether social entrepreneurship is the proper means to serve her end: providing diverse books to children.
Read 4 Unity has 3 major ways to acquire books: wholesale, partnerships with self-published authors, and donations. Read 4 Unity utilizes wish lists on its website that allow visitors to donate books to the organization directly. Read 4 Unity also defrays the cost of books by selling tiered book bundles on its website.
Read 4 Unity has 3 major avenues to deliver their books into the hands of children: book fairs, partnerships with organizations like The Little Free Library and Georgia Southern University, and donations to teachers that query Read 4 Unity on its website.
Read4Unity's continuing partnership with Clarkston's Refuge Coffee has been beneficial to both organizations and has allowed Read 4 Unity to test and refine its book fair concept and its mini-libraries that it has dubbed Read 4 Unity book nooks.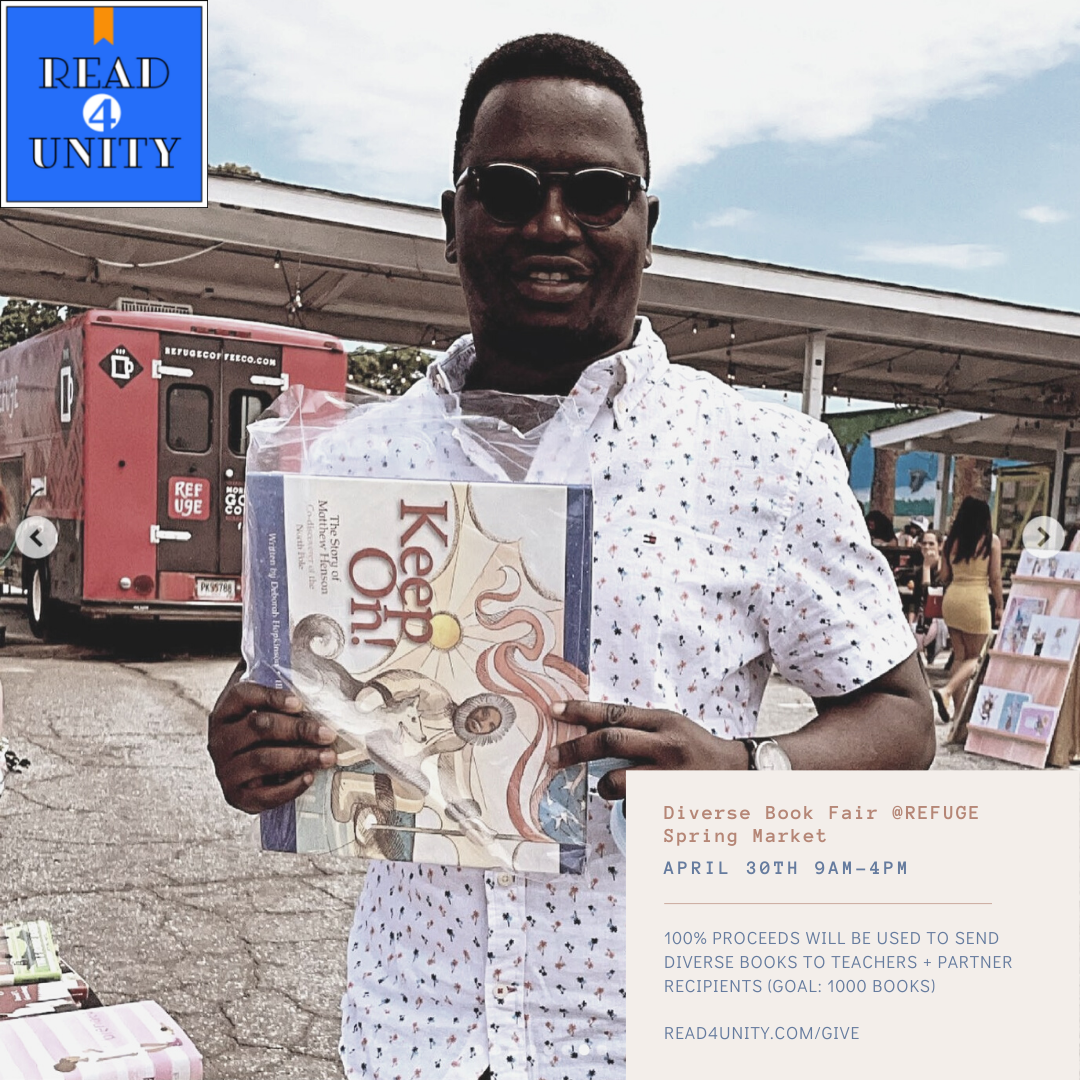 Read 4 Unity has successfully leveraged existing distribution channels to provide diverse children's books to more communities in Georgia and beyond. It has forged partnerships with The Little Free Library, Kennesaw State University, and Yenny's alma mater Georgia Southern University to increase Read 4 Unity's footprint without straining the organization. The Georgia Southern University office of Diversity and Inclusion and the Georgia Southern University Collegiate 100 partnered with Read 4 Unity to create and manage Read 4 Unity book nooks in and around Statesboro and Savannah. The Georgetown Law School student group in Washington D.C. has also sponsored a Read 4 Unity book fair.
The goal of Read 4 Unity is not to stand up as many libraries as possible. It would rather leverage partners like The Little Free Library, which partnered with Read 4 Unity to provide diverse books in the Atlanta market, to manage the sites where the books are distributed. Instead, it would like to focus on discovering new diverse authors and ensuring that their books make it to the hands of the children, parents, and teachers that need them.
Its moonshot goal is to put 1,000,000 diverse books into the hands of children in the next 5 years. Thus far, it has provided 5,000 diverse books to communities around the country. Read4Unity is holding a diverse book fair at Refuge Coffee's Spring Market on April 30th.
###
Interested in learning more, please visit:
https://gasocialimpact.com/wp-content/uploads/2022/04/StartMeYenny-1.png
1128
2001
Sydney Hulebak
https://gasocialimpact.com/wp-content/uploads/2018/09/gsic.png
Sydney Hulebak
2022-04-04 09:17:37
2022-04-04 09:18:05
Entrepreneur Profile: Yenny Yang, Read 4 Unity