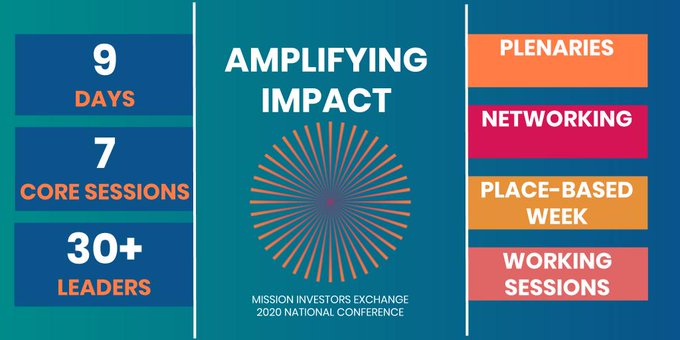 Alongside Mission Investors Exchange (MIE), which held its 2020 conference virtually (instead of the originally planned location in Atlanta), GSIC hosted a session on place-based impact investing in Georgia on May 22. With over 75 participants, we witnessed a deep interest in understanding how impact capital can support investment in improved outcomes in our communities. Below is a short read-out of the conversation:
Mark Crosswell, GoATL Fund (Community Foundation for Greater Atlanta) and the Georgia Social Impact Collaborative (GSIC)
Gave background on the GoATL Fund, the Community Foundation for Greater Atlanta's place-based impact fund, which deploys low-cost debt through financial intermediaries for social outcomes in alignment with the Foundation's strategy to increase equity of opportunity.
GoATL started with $10 million in capital from the Foundation and began raising capital from its donors in 2018. With almost $12 million in total capital, GoATL has committed over $9 million, mostly to scale affordable housing, minority-owned small businesses and quality education through metro Atlanta's Community Development Financial Institutions (CDFIs in Georgia.)
Jennifer Barksdale, Mary Reynolds Babcock Foundation
The Babcock Foundation transitioned to a 100% mission-aligned portfolio in the last several years. It has required each investment be made in accordance with their ESG Policy, which is updated regularly to consider new screens (such as private prisons).
To approach place-based work, the Babcock Foundation invests through CDFIs with grants, loans and credit enhancements. The Babcock Foundation does not make direct investments due to staff capacity requirements.
In response to COVID-19, the Babcock Foundation doubled unrestricted cash grants to all grantees, extended grant periods, eliminated interest on Program Related Investments (PRIs), forgave 20% and extended the maturity of all PRIs due this year by one year. The result is a doubling of their 2020 payouts. (See blog.)
Tracy Kartye, Annie E Casey Foundation
The Casey Foundation has allocated $200 million to its social investments, which began in 2002, before the term "impact investing" was coined. They invest both through CDFIs and directly into projects. They are very selective about their direct investments due to limited staff capacity.
Much of the Casey Foundation's strategy in Atlanta has been around the Pittsburgh Yards development in NPU-V. It is a rare example of community-based development along the BeltLine, and it intends to provide employment opportunities and access to capital for individuals and hyperlocal businesses. To finance the $26 million New Markets Tax Credit (NMTC) project, the Casey Foundation found both private and public investment partners.
Natallie Keiser, Annie E Casey Foundation
The Casey Foundation is embedded in NPU-V, Pittsburgh in particular, due to the extreme disparities in Atlanta by race and wealth. Caseyhas been a leader in promoting strategies for supporting greater equity in Atlanta through partnerships with entrepreneurs of color to build wealth, and developers to preserve and promote affordable housing, and families to minimize academic disruption.
Through the Foundation's work in NPU-V, staff learned that Capitol View (a BeltLine adjacent multi-family property; photo) was for sale. Leveraging staff in both Atlanta and Baltimore, the Casey Foundation followed the Kresge Foundation's Community Investment framework to evaluate and proceed with their investment. In partnership with HouseATL, the Casey Foundation found investment partners in Enterprise Community Partners, Invest Atlanta and others.
A major difference between the response to the ongoing pandemic and the last recession is the clarity around the need for emergency relief and early investment in recovery. After the last recession, the Casey Foundation invested $3 million to acquire 50 single family lots in Atlanta's Pittsburgh neighborhood. With additional investment, they are exploring solutions to ensure permanent affordability.
Dale Royal, Local Initiatives Support Corporation (LISC)
LISC opened its local office in Atlanta just last year but they have already developed a series of Financial Opportunity Centers, which are career and personal finance service centers that help low- to moderate-income people focus on the financial bottom line with integrated delivery of employment services, financial coaching and access to income supports.
In Atlanta, LISC is focusing its resources on building capacity of small businesses through strategies developed in other regions, as well as from their surrounding neighborhoods.
Right now, a major focus is on micro-lending, as micro-enterprises have the hardest time raising capital for their businesses and are disproportionately impacted by coronavirus-related lockdowns.
Local Updates:
Resources:
https://gasocialimpact.com/wp-content/uploads/2020/05/EX_WShcWAAQVxIY.jpg
340
680
Jonny Newburgh
https://gasocialimpact.com/wp-content/uploads/2018/09/gsic.png
Jonny Newburgh
2020-05-26 14:56:12
2020-05-26 14:56:12
Webinar Recap: Advancing Place-based Strategies in Georgia