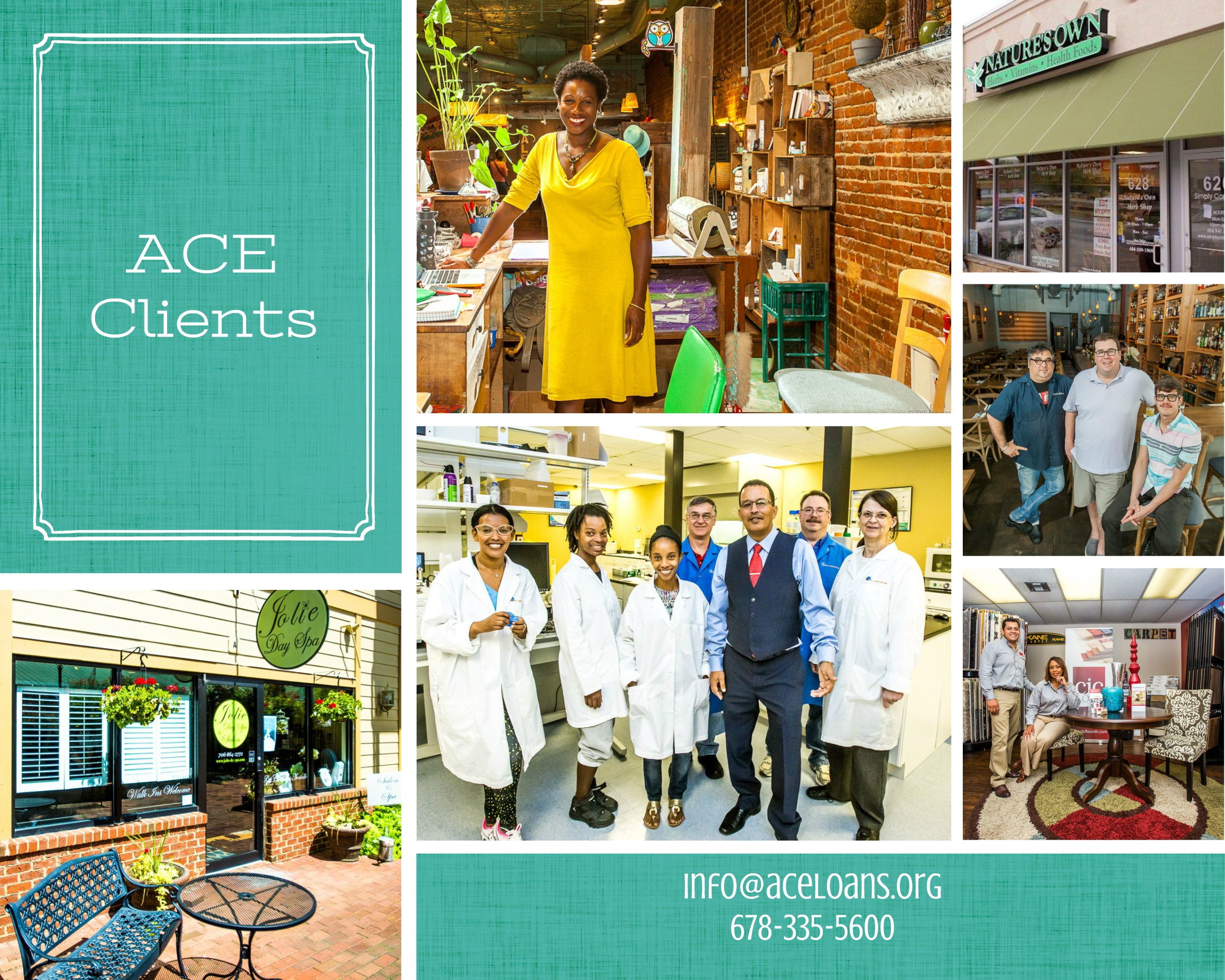 Profile Summary:
Entrepreneur Name: Grace Fricks, President & CEO
Venture Name: Access to Capital for Entrepreneurs (ACE)
Impact Focus Area(s): Small Business Capital with Coaching and Connections, Job Creation, Asset/Wealth Building, Services Provided in English and Spanish
Business Stage (Ideation, Startup, Early, Later, Mature): Later
Year Venture Established: 1997
Business Type: Nonprofit Investor (Community Development Financial Institution)
Headquarters: Cleveland, Georgia with an office in downtown Atlanta and the ACE Women's Business Center in Norcross, Georgia
The Issue
Social entrepreneurship is about solving problems. Tell us about the challenge you are focused on addressing and why it is critical that we make progress.
"Small business ownership, like home ownership, is an asset and an avenue to create wealth for the business owners and their families. Small businesses also create needed jobs and improve the quality of life in their communities. For many, entrepreneurship is the only viable path to creating wealth. Recent statistics show that Caucasian families have thirteen times more wealth than African American families. When comparing Caucasian and African American business owners, this disparity reduces to a factor of three. This is similarly true for women and Hispanic business owners.  
Access to Capital for Entrepreneurs (ACE) has been building businesses, jobs, and communities for eighteen years. As a nonprofit Community Development Financial Institution (CDFI), ACE provides loans and business development support to help Georgia entrepreneurs create and grow sustainable businesses that generate jobs and strengthen communities. We are the only Georgia-based CDFI serving Atlanta and North Georgia focusing on small business development. We understand that providing people with capital, business coaching, and community connections gives them the resources needed to create their own success, break the cycle of poverty, and support their families.
Small business funding remains hard to obtain, particularly for women, people of color, and low-income persons. Many lenders view these borrowers as inherently risky and the small business loans they need as less profitable than larger loans. Having the ability to be innovative, creative, and flexible in structuring the terms of our loans, ACE is often the only point of access to the financing these underserved business owners need.
In addition to capital, ACE provides grant-funded business advisory services many entrepreneurs need to be successful business owners, income producers, and job creators. ACE leverages the best resources in the community to provide clients with the tools, skills, knowledge, mentoring, and confidence to create successful businesses. Clients have access to individual coaching, classes, and networking opportunities. We take a hands-on, customized approach that has a direct impact on our clients' ability to build strong businesses and repay their loans."
Your Journey
Entrepreneurship is a journey that requires connections and support from a wide array of stakeholders across the ecosystem to help successfully identify, start, and grow a social enterprise.
"The experiences of operating a social enterprise like ACE are similar to the journey of a typical small business. Just like the clients ACE serves, we have walked the same path and continue the same journey they do, giving us firsthand experience regarding what they are experiencing and what their needs are – for capital investment, business advisory services and support. Like a small business, we had to identify what our value proposition was, the strategic and financial plan to be successful, and our target market. ACE began serving just four rural North Georgia counties where there was a demonstrated demand for access to capital identified by Georgia's technical college system. Critical partners in meeting this need included local banks, the local Rotary Club, SBDC, local newspapers, the technical college that provided entrepreneurial education classes, and retired entrepreneurs. Demand grew as social service and economic development organizations and others in surrounding counties learned about small businesses starting and growing as a result of our work. These organizations then sought us expand into their counties to serve businesses there. The Appalachian Regional Commission, USDA, and a regional foundation in North Carolina with a mission to move people and places out of poverty, along with other partners, supported ACE to expand our work.
Crisis, Great Recession, Pivot:
The Great Recession was a defining moment for ACE as the demand for our services in metro Atlanta became clear. Instead of "hunkering down" and waiting for the recession to blow over, possibly taking ACE with it, we aggressively sought SBA and Treasury funds, national and regional bank support, and support from foundations to expand into the metro area. We leveraged our unrestricted net assets (retained earnings) to hire skilled financial staff (former bankers) to move into the Atlanta market. This successful strategy allowed us to survive the recession and establish ourselves in the Atlanta market.
From a founder's dream with $50,000 to a true community-owned financial institution:
With $50,000, ACE began making our first loans in 2000. Since then, ACE has helped more than 850 businesses obtain in excess of $53 million in capital and create more than 7,300 jobs. We've been able to accomplish this with a 97% repayment rate.  
Today's critical partners in the ecosystem, in addition to investors, are the Georgia Hispanic Chamber of Commerce, Yo Soy Mujer, the Latin American Association, Atlanta Business League, Urban League of Atlanta, Emory University Start:ME program, Atlanta Wealth Building Initiative, Pittsburgh Yards (NPU-V), Greater Women's Business Council, City of Atlanta's Women's Entrepreneurship Initiative (WEI), Invest Atlanta, DeKalb County Government, Georgia Chamber of Commerce, Georgia Department of Community Affairs, Georgia Minority Supplier Development Council, SCORE, SBDCs, and many other private business consultants, CPAs, and attorneys.
The ecosystem for Georgia's small business development is ACE's ecosystem. We bring access to capital and financial business development assistance, and partner with others with appropriate expertise to ensure our clients have access to the services needed. Our clients benefit from the synergy of our being a part of this ecosystem."
GSIC and the Map
The mission of the Georgia Social Impact Collaborative (GSIC) is to accelerate the growth of impact investing in Georgia. Over the past 18 months, GSIC and its partners have engaged hundreds of investors, nonprofits, social entrepreneurs and others who care about scaling social impact through leveraging creative capital. The result of this work is the Map, an interactive resource designed to educate and connect stakeholders interested in impact investing. For more info, see www.GaSocialImpact.com and the Summary Report from phase 1 of the Map.
From your perspective, why do we need to develop Georgia's Social Impact Ecosystem and how can the Map help with that?
"Organizations with investment needs will benefit from having a coordinated system to make these needs known to the ecosystem at large. The map is important in making it possible for investors to identify social impact areas they are interested in, whether that is based on geography, gender or racial/ethnic lens, type of investment (housing, small business ownership, environmental, etc.). The map can also help social entrepreneurs and other providers of services to connect and collaborate on achieving common goals. With multiple partners in an ecosystem, addressing a common, systemic challenge/social issue, the synergy can reduce the silo effect and create greater results."  
Interested in learning more about Access to Capital for Entrepreneurs, please visit:
https://gasocialimpact.com/wp-content/uploads/2018/11/ACE-clients.jpg
1947
2434
Sydney Hulebak
https://gasocialimpact.com/wp-content/uploads/2018/09/gsic.png
Sydney Hulebak
2018-11-28 15:10:14
2018-12-07 13:37:03
Grace Fricks of Access to Capital for Entrepreneurs