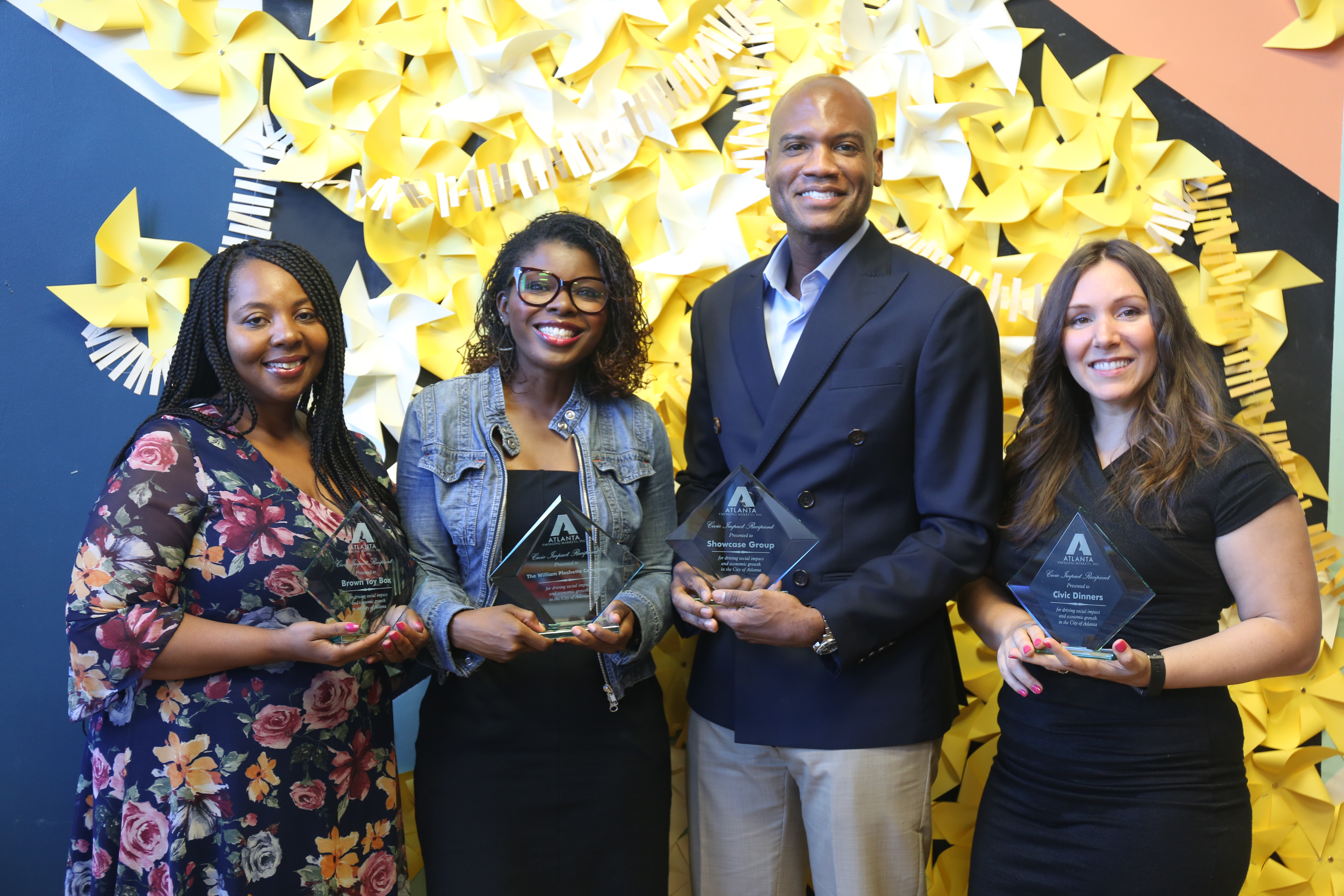 Invest Atlanta/Center for Civic Innovation
Originally posted on Invest Atlanta
September 24, 2019
Four Atlanta social ventures have been awarded a total of $200,000 by the Spanx by Sara Blakely Foundation and Atlanta Emerging Markets, Inc. (AEMI) through the Civic Impact Loan Fund. This loan fund is an effort created in partnership with the Center for Civic Innovation (CCI) to support early-stage civic entrepreneurs in scaling their businesses and expanding their community impact in Atlanta.
The Civic Impact Loan Fund, created in December 2016 by Atlanta Emerging Markets, Inc. in partnership with the Center for Civic Innovation, is an innovative investment tool that provides flexible, zero-interest loans to entrepreneurs who have early-stage businesses that are making a difference in their local communities.
"We are proud to continue supporting civic-minded businesses and those working on the front lines to make a positive impact on other people's lives," said Stephen McRae, President of AEMI. "These outstanding entrepreneurs are not only bringing new business ideas to life, but they are also showing their commitment to creating equity in our underserved communities. I wish each of these entrepreneurs continued success and admire their dedication to making Atlanta a greater city for all."
The Spanx by Sara Blakely Foundation was founded in 2006 with a mission to support and empower women through education, entrepreneurship, and the arts. The contribution from the Sara Blakely Foundation ensured that at least $100,000 of the fund went to women-led ventures.
"For me, this is about investing in the person, not just the business," said Sara Blakely, Founder and CEO of Spanx and the Spanx by Sara Blakely Foundation. "Not only do I believe we need to close the gap in women's access to capital, I believe we need to give these women the holistic support that will enable them to soar. After providing them with a year of mentorship and training in partnership with CCI, we are celebrating their success and excited to invest in their businesses so they can grow and scale their impact."
AEMI and the Spanx by Sara Blakely Foundation each contributed $100,000 to fund early-stage civic entrepreneurs. The applicants selected to receive the $200,000 in total funding are Civic Dinners, The Showcase Group, Brown Toy Box, and SwemKids (The William Pleshette Company). All four of the entrepreneurs leading these organizations are recent graduates of CCI's Civic Innovation Residency program, a one-year intensive leadership, business development, and coaching program for civic entrepreneurs in the greater Atlanta-area that was sponsored by the Spanx by Sara Blakely Foundation. CCI also provided deal sourcing, underwriting, mentorship, and programmatic support, with loan servicing and back office support provided by Invest Atlanta.
"These civic problem solvers represent the greatest assets of our economy," said Rohit Malhotra, Founder and Executive Director of the Center for Civic Innovation. "Each of their businesses exists to solve a specific systemic challenge, and their success will create ripple effects for generations. Civic Entrepreneurship is in Atlanta's DNA. We're just shining a light on the people who are on the ground, doing the work."
The 2019 recipients are:
Jenn Graham | Civic Dinners aims to help create a more inclusive world where everyone feels invited and engaged in co-creating a better future by bringing people together over food for conversations that matter.
John Kennebrew | The Showcase Group works to strengthen justice-involved youth and families through psychological and personal development services inside and out of juvenile detention centers. Showcase Group provides support to incarcerated youth and their families by implementing psychosocial services such as advocacy and family and individual therapy by trained professionals.
Terri Nichelle-Bradley | Brown Toy Box produces children's products and exposure experiences designed to encourage and prepare black children to pursue interests and careers in STEAM.
Trish Miller | SwemKids (The William Pleshette Company) is a 501(c)(3) school-based program that teaches children introductory swimming lessons and water safety skills as a part of their school's curriculum. The William Pleshette Company, Swem Kids' for-profit entity, is designing and testing a fully waterproof swimming cap to keep thick and curly hair dry in the water and address a cultural obstacle to swimming.
"This contribution is really going to take The Showcase Group to the next level," said John Kennebrew, Executive Director and Founder of The Showcase Group. "We've grown from working with two youth out of the detention center to working with one hundred youth this year. Now, we're able to put a Program Director in place to manage the logistics of working with the clinical social workers, advocates, and other community members who help to strengthen the youth we work with. It's a great relief to now have someone who can manage the day to day relationships, while I can focus on taking the organization to the next level."
Now in its third year of operation, the Civic Impact Loan Fund has provided $455,000 to a diverse group of early-stage businesses in many different impact areas, including community development, the arts, wellness, and education.
https://gasocialimpact.com/wp-content/uploads/2019/09/untitled.png
3840
5760
Jonny Newburgh
https://gasocialimpact.com/wp-content/uploads/2018/09/gsic.png
Jonny Newburgh
2019-09-26 12:43:36
2019-09-26 12:43:36
Atlanta Emerging Markets Inc., Spanx by Sara Blakely Foundation, and the Center for Civic Innovation Continue Support of Civic Problem-Solvers