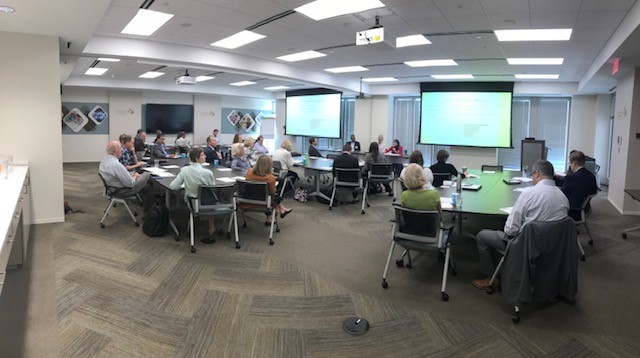 GSIC
Foundations and community lenders scaling outcomes through capital
October 9, 2019
Last week, the Georgia Social Impact Collaborative (GSIC) hosted leaders from nearly 40 GA-based foundations and 15 community development financial institutions (CDFIs) to gain insights on how to advance their common goals around social outcomes. After an immersive session to understand how CDFIs drive impact in Georgia, the event – Leveraging CDFIs for Mission – was highlighted by a series of breakout groups, each focused on ways to enhance sustainable solutions through collaborative investment. The small group settings provided a unique opportunity to workshop specific initiatives that need greater levels of capital to truly scale.
"Foundations and CDFIs often work on very similar issues in the same communities, yet investment capital for both capacity and projects has always move slow in Georgia. This is changing quickly as these discussions proved," said Sam Moss, chair of GSIC and senior director of finance at the Cousins Foundation. "Foundations are realizing the incredible leverage they can gain by using their balance sheet, as well as their grant dollars, to drive impact through community development lenders."
CDFIs, usually nonprofits, are financial intermediaries that are certified by the U.S. Department of Treasury, which they can then apply to for grants and low-cost capital for purposes of providing cost-effective, flexible financing in underinvested communities, which are often ignored by commercial banks and other mainstream financial institutions. CDFIs are adept at underwriting loans, and providing technical support to ensure repayment, for both low-income and low-wealth individuals and businesses.
While CDFIs receive some federal support, their primary source of capital is from larger commercial banks, which rely on CDFIs to satisfy regulatory commitments to provide loans to low income populations. A rapidly growing and very positive trend since the great recession is for foundations and other place-based funders to support CDFIs through both grants and low-cost loans (often with program-related investments, PRIs). In this way, local funders can work closely with CDFIs on the unique issues and challenges of communities of common concern. PRIs, grants and other forms of local assistance allow CDFIs to provide even more advantageous terms on loans and valuable technical assistance to individuals and businesses with the greatest needs.
Leveraging CDFIs for Mission featured three executives with considerable experience working with CDFIs:
Sameera Fazili, director of engagement at the Federal Reserve Bank of Atlanta, opened the program with a landscape analysis of community development investment in the South.
Sandra Mikush, former deputy director of the Mary Reynolds Babcock Foundation, which has already aligned its assets 100% with impact, shared the opportunities and challenges they found in realigning their investment strategy.
Courtney Smith, senior vice present at PNC and experienced board member and investor in several CDFIs, gave an overview of the CDFIs working in Georgia and their specific competencies.
The program concluded with foundation and CDFI leaders meeting in small groups to workshop specific place-based issues, including affordable homeownership, financial inclusion, rural economic development, minority-owned businesses and social entrepreneurship and transit-oriented development of affordable housing. Post-event, GSIC is committed to continuing to provide connections and learning opportunities to impact investors and social enterprises of all types throughout Georgia.
###
Media contact: Jonny Newburgh, [email protected]
Notes from the event's breakout session: Leveraging CDFIs for Mission – Breakout Notes
https://gasocialimpact.com/wp-content/uploads/2019/10/GSIC-Leveraging-CDFIs-For-Mission.jpg
358
640
Jonny Newburgh
https://gasocialimpact.com/wp-content/uploads/2018/09/gsic.png
Jonny Newburgh
2019-10-09 09:22:58
2019-10-11 11:58:00
Leveraging CDFIs for Mission