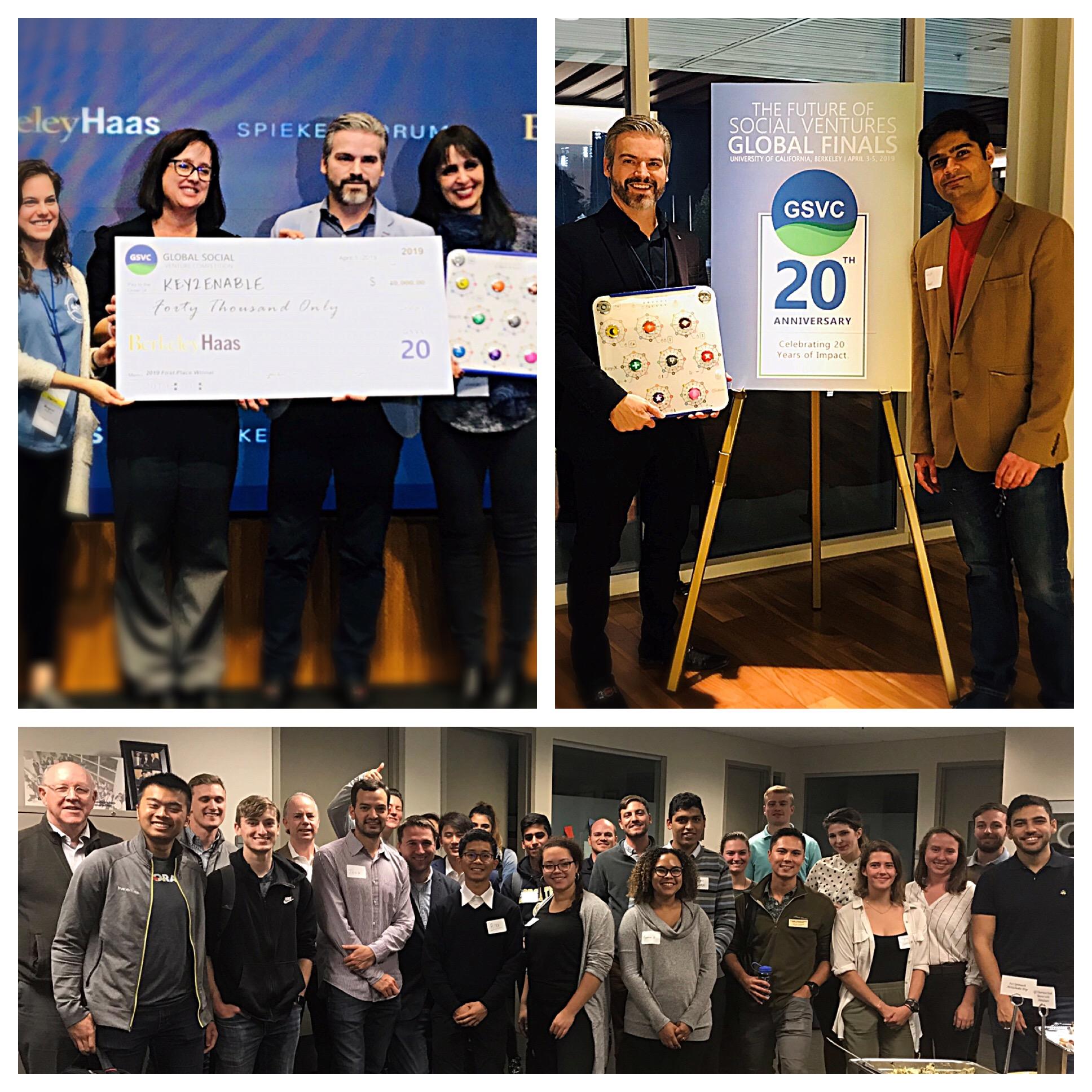 Originally published on Scheller News on March 25, 2019
The Global Social Venture Competition (GSVC) empowers the next generation of social entrepreneurs by providing them with mentoring, exposure, and over $80,000 in prizes to transform their ideas into ventures that address the world's most pressing challenges using technology for good. Since 1999, the GSVC has helped more than 6,500 teams from 65+ countries across the globe and distributed more than $1M in prize money. Highlights of this year's competition included:
For the sixth year, Georgia Tech partnered with University of California Berkley's Haas School of Business for the Global Social Venture Competition
Celebrating its 20th anniversary, this year's theme was "Technology for Good"
Over 20 leaders from the for-profit & non-profit sectors met to judge regional finalists on business potential, social impact potential, and likelihood for success
Two teams from the Eastern U.S. region will participate in the Global Finals to be held at U.C. Berkley (on April 5) for over $80,000 in prizes
This year, the 20th anniversary of the competition, there were 692 social ventures entrants from 67 countries. Since 2013, Scheller College of Business at Georgia Tech has been a strategic partner school for GSVC, coordinating the competition's executive and regional final rounds for all ventures coming from schools in the eastern United States. This year's regional finals were hosted at Scheller Friday March 1st and featured 17 social ventures spanning industries such as healthcare, biotechnology, search & rescue virtual education, recycling technology, and adaptive technology solutions.
The day brought together over 20 judges, local Atlanta-area leaders from the for-profit and non-profit sectors, to evaluate all social ventures based on three primary components-business potential, social impact potential, and likelihood for success. Initially, judges met in small groups to bring the field of 17 ventures down to eight. The afternoon session, moderated by Sam Moss of the East Lake Foundation, narrowed the field to four, which were then interviewed virtually via video conference. Schuyler Baehman, a regional finals judge from Southern Company, said of the competition, "I was truly impressed by the thoughtfulness behind each and every presentation we heard as we work to find solutions to some of the largest issues facing our world today."
Ultimately, two ventures, Magnomer and Key2Enable were selected to advance and compete in the global finals. These two organizations were distinguished from the rest of the competition through a combination of three potentials – business success, breakthroughs in social impact, and unique positioning for market success. Magnomer creates recyclable bottle packaging through use of magnetizable ink coatings – these coatings complement materials separation during recycling and allow for plastic bottles to be recycled back into plastic bottles. Key2Enable empowers people with disabilities to develop skills and provides access to technology through assistive keyboard technologies. Miguel Granier, a Regional Finals judge and Managing Director of Invested Development, said "I really appreciate the impact that both can deliver. It's quite impressive."
The GSVC team at Georgia Tech Scheller College of Business is led by Dori Pap, Assistant Director for the Institute for Leadership & Entrepreneurship, as well as a board of MBA students and the GSVC Advisory Board. The eastern U.S. region has been successful in recent global competitions. NeMo finishing as runner-up in 2018 and Kheyti winning the global competition in 2017. NeMo is now working with key stakeholders to ensure user-centric design in product development process. They described the significance of the competition succinctly, "Along with the second-place award, we are thankful for the connections formed with extraordinary entrepreneurs from around the world and continued conversations with experts in social innovation and building successful startups."
The GSVC at Georgia Tech is made possible by title sponsor, Southern Company, as well as sponsorships from Hands On Atlanta, Invested Development, and Mosely Ventures. The GSVC has also received support from the Georgia Tech community through the Ray C. Anderson Center for Sustainable Business, Venture Lab, CIBER, and the Scheller College of Business. Additionally, GSVC is supported by a generous volunteer community of over 50 judges and mentors who assist with coordinating the competition and coaching competitors. Thanks again to all who supported the GSVC at Georgia Tech and best of luck to Magnomer and Key2Enable at the Global Social Venture Competition Finals in Berkeley in April!
Update: Key2Enable won the top award at the 2019 Global Social Venture Competition and Magnomer placed in the top 6 of 692 entries worldwide.
The Georgia Social Impact Collaborative (GSIC) provides resources to connect, educate and inspire stakeholders for the purpose of accelerating the development of Georgia's impact investing ecosystem. Recently, GSIC announced the launch of the Georgia Social Impact Map (the "Map"), an interactive platform designed to connect and educate stakeholders interested in accelerating impact investing for social outcomes. Intended as a resource for communities around the state, the Map connects new forms of capital to sustaining and scaling solutions to social challenges. GSIC also provides workshops and programming for training specific groups of stakeholders on ways to leverage impact investing to achieve their impact goals, such as the workshop described below, which was attended by 30 leaders of some of GA's top social enterprises and nonprofits.
https://gasocialimpact.com/wp-content/uploads/2019/04/06.jpg
1936
1936
Jonny Newburgh
https://gasocialimpact.com/wp-content/uploads/2018/09/gsic.png
Jonny Newburgh
2019-04-09 10:08:19
2019-04-09 10:08:19
Georgia Tech Hosted Eastern Regional Global Social Venture Competition Finals